We got to sit down and spend some time talking with Jared Blake, who recently clinched a spot on NBC's new smash hit show The Voice. Initially, Jared was the last to fill a spot on Team Blake, Blake Shelton's Team, and has slowly regained his strength in the competition by debuting his on-air performance of "Not Ready to Make Nice" on iTunes at #23! Jared has been in and around the Nashville music business for almost 13 years and shares his stories of the ups and down of chasing a dream, being a father, and his trials along the way.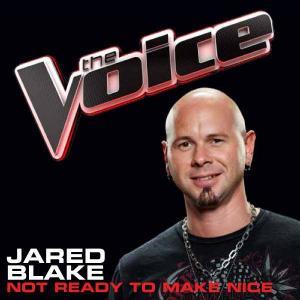 You grew up in the south, were you a blues fan growing up?
Absolutely! I love the blues.
Who is you favorite blues artist?
That's kind of a hard one because there are so many great ones. There are a lot of hardcore people in every genre and I don't know if he's still considered the blues anymore but I'm always gonna run with Stevie Ray. He's the closest to my style.
Sounds like you are having a blast in LA?
Oh yeah man, Hollywood is insane!
How do you stay grounded through all of this?
6 kids! That will keep you grounded!
6 kids? Talk of more?
Yes, well, people like to jump on that number and ride on it like I am nuts. Maybe I am; however, if you stop a moment to talk to me about it you will find out that it was GOD that wanted me to have kids. Then, I met an amazing woman that had two more kids. We have a blended family of six beautiful, talented, funny, sassy, confident kids. We wouldn't want it any other way. We might get a couple of dogs one day. That's it for the "more" comment.
Why did you choose a pop-techno song to use for your blind audition? What is more opposite of the Jared Blake we see now?
It may be the opposite of what I really do, but it made for great t.v., right? The real answer to that is the list of approved show songs didn't have an option that I thought was "me", so I took something I thought I could manipulate and make it my own. It had a great groove and was fun. It shows my wilder side, and I think the only problem was that there isn't much time for the coaches to think through their decision enough to evaluate it as much as I did. In the end, I'm happy with my decision, the fact that I got a second chance, and I'll probably perform that in every live show I get to do from here on out just for fun.
Who had the most influence in your decision to get into the music business?
It's not a 'who'. It was a place. Star City, AR. Growing up in a small town teaches you a lot I guess. I had plenty of time to think about who I was and what I wanted to do with my life. As long as I can remember, I knew music was going to play the biggest role in my career goals. I've tried a few other things, including owning a decorative concrete business, and no other creative outlet was strong enough.
Concrete? Another opposite.
I got into that by mistake. I wanted to get out of the bar business because of a bad alcohol addiction. I opened the classifieds and saw "concrete engraver wanted" and thought I would be make those grave stone things. I figured, "If I can draw, I can certainly do this" and applied. When I got there I found out that I actually was going to make floors into actual pieces of art. I really enjoyed it and the hard work was something I was used to. With all these kids, I've always had to have a few "jobs".
The country guys call you the next Travis Tritt or Gary Allan and the rock guys call you the next Daughtry, 3 Doors Down, or modern day Lynyrd Skynyrd, so which is it?
I'm happy to be thrown in the mix with any of those guys! To be honest, being in LA for the first time has been a fast process of "figure out what you are", and I'd like to say that I'm in one box or the other, but really my job is to write, sing and play great songs. I'll leave it up to the boss and what the fans decide I am. Country and Rock is all from the same roots, and I've certainly been influenced by both. It's all about a mood to me. You can tweak the guitar tone a little and you call it one or the other on the same song.
You are obiviously a passionate guy. What are your biggest passions in life?
My family is first, my music is a close second and luckily the family is generally in the mix with the music stuff. I've always been the kind of guy that shares stories, experiences, and gets passionate about helping others. It's a big world and I'm certainly not the only one who has been through hard times. I hope one day to be able to help a lot of other people suffering. I've also got a big soft spot for moms. I know what my fiancee went through trying to make a life on her own, and with all these kids we know the importance of stability in re-building a family.
The Voice is a huge hit for television and now you are in the Top 16. I'll cut straight to it; are you going to win?
Ha ha. Who knows? Every single person on the show at this point is incredible in their own right. I think there are a few "artists" vs. "singers" in the group, and I'm always a fan of originality. I think that's what all the legends had going for them. There are even a few that didn't make it that blew me away. Having 60 seconds on a cover song thrown onto a huge stage isn't easy! It will be nice to see any one of these people win. I'm happy to be here for the ride and I'll have my fingers crossed. The one thing I do know is that this is going to change my world. My fans, friends and family are so supportive. It feels great! Whatever you do, make sure you watch the show on Tuesday nights and VOTE! Support your favorite, because it does matter! Each and every person. Join our social media also because that's a big part of this adventure and we all stay really involved in that.
Stay tuned for our next interview with Jared. He's got a lot more to say about his deep blues influences and his unique style! In the mean time, find out more information on Jared and The Voice below!
Check out Jared Blake's Facebook Voting Event Here
Other links:
You can find more on Jared Blake at his official site
Find Jared Blake at his NBC fanpage