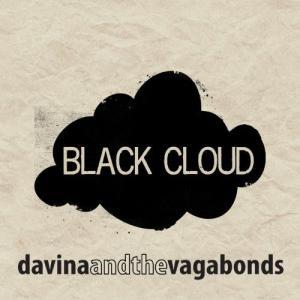 Davina & the Vagabonds' upcoming Black Cloud sports an album cover showing a simple, relatively nondescript black cloud that hides a CD bursting at the seams with classic New Orleans and powerful vocals. A heavy horn section and piano make up a wonderful rhythm, and Davina's vocals are exceptionally unique in only the greatest way.
The first track, "Vagabond Stomp Beginning", is a short instrumental that calls up New Orleans dixieland Jazz and, with the exciting trumpet work, sets the musical stage for the album. "Disappears" would be comfortable in nearly any genre of music. The track is a skillful showcase of Davina's vocal work with the righteous taste of a fantastic trumpet solo. "River" is, no pun intended, drenched in soul and blues, with the horns to back it up. The track is heartfelt in it's lyrics, which take unexpected twists and turns, as well as it's song.
Overall, Black Cloud is an excellent album. Don't expect traditional blues; Davina & the Vagabonds are a blues band that takes the daring approach of being sans guitar player. The sound works unexpectedly well for the band, and fans of New Orleans and soul will be rewarded with a one-of-a-kind musical experience. Davina's vocals, rich in tone, are unique in a great way.  Connor "Chops" McRae takes up the drums and background vocals, Michael Carvale shines on stand-up bass, Daniel Eikmeier provides a fat and soul-fused trumpet sound, and Davina Sowers plays an excellent piano and, of course, graces the album with her admirable vocals. Wherever Davina and the Vagabonds have been hiding, which is apparently nowhere with over 300 tour dates a year, they won't be able to stay there for long.