This is the second editorial from the desk of Marc Borms, who, along with his brother Luc, are currently undertaking and documenting their amazing 4,500 mile trip through the depths of Mississippi's Delta in search of the blues and the people that make it up.  Their trip will be made into a forthcoming book, Catfish & Cotton.
It's hot down here!
We are two days late and the speed is not going down, which is no problem because we're having a great time. The forthcoming book will be awesome; we're meeting a lot of great people who give us a warm welcome, invite us into their homes. This is "Real southern hospitality" and it feels good.
Lately, we have been visiting the Helena Depot and the Helena Delta Cultural Center. Both are great museums.
The last one had a great overview of the history of the blues. There we've been invited on the King Biscuit Radio Show and met the lovely Mr. Sonny Payne. We had a long talk with him about the over 16,000 broadcasts he made. We noticed that falling CDs that disrupt the radio show are not a problem, and fading out a song is a "not done" in the King Biscuit Radio show.
Than we drove to Cristen Barnard to talk about her work. She's a mural painter and graphic artist strongly connected with the blues tradition. We've been invited in her home, she made ice tea and "home made chocolate cookies". It felt like coming home. Thanks, Cristen.
We drove to Oxford, Mississippi to meet Adam Gussow (the king of harmonica–teachers). Adam has more than 200 instruction videos on YouTube which are used by many young harp players. We had diner with him and afterwards he invited us in his home, where we met his beautiful wife Sherrie and little son, Shaun.
And we got to play with him on his back porch! There were fire flies and bugs (big ones) and they loved our music…
The next day we had a great breakfast in the hotel and drove to Como to see the grave of Mississippi Fred McDowell. We continued to Duncan, Mississippi and looked for the house of Bill Abel, a huge house with beautifully decorated rooms. We met Bill and his lovely family, Jessica (his wife) and the two little kids Ben and Sarah-Belle. We had some ice tea. We interviewed Bill in his music room, a great place with lots of guitars
and cigar-box guitars made from driftwood from the Mississippi, and again, we played some music. Deep south blues…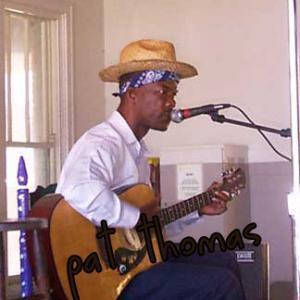 Marc gave a little blues concert on Bill's piano, to thank the family. They loved it. Thanks for the warm welcome guys. You're great!
And then we met Pat Thomas. He played us a song written by his father:  'Beefsteak Blues' and took us to his fathers grave where he played Carroll County Blues. It was warm; the heat was overwhelming, but Pat's music was too.
Randy Magee took us to his home and we drank some home brewed beers (great stuff Randy) while he told us some great stories.
A great way to end another great day in the Delta. We are starting to talk slower and planning to move to the Delta and live here.
How about that y'all?