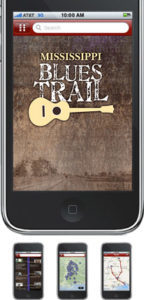 The Mississippi Blues Trail just released a Blues Trail iPhone app, and it is, in short, fantastic. We've spent hours combing through the app, which is filled with interesting and useful information.
Among the features are a wonderfully interactive list of trail markers, each having their own vinyl record icon. Every marker can be selected to see accompanying articles on that marker, as well as pictures, video, and even related people/markers.  Users who browse to a marker can then add it to a travel itinerary for their pilgrimage to the delta.
The itinerary is fascinating. Users can add every marker they would like to visit, and when they go the "Itinerary" section, the app will automatically create a "best-route" map from your current location to each marker. Of course, if one must miss a marker, or isn't going to be present on the trail at all, the virtual markers are able to interactively tell far more of the story behind them than their metal counterparts, so users across the world will benefit from the app, (though there can be no virtual substitute for standing on the delta soil at Dockery plantation!)  For those traveling, this app is absolutely invaluable for the many who are making a trip across Mississippi — either to visit the silt-soaked delta, a sacred blues mecca, or who are just looking for interesting sights or history along their trip. Users can add as many markers as they would like and the Map will chart the course for you.
Another stunning feature is the timeline, which vertically chronicles important dates by marker, where users can easily pinch or open the timeline to show less or more details in years & markers. The timeline is surprisingly comprehensive, starting in 1800 and moving to current times. Each picture on the timeline is interactive, showing all of the marker information when clicked.
There is also a list of people important in the blues that users can sift through at their leisure. Clicking on each person reveals their images, related trail markers, and related people, if there are any. Several of the people had no information — only related people. however with a list so broad-spanning, that is to be expected. Most, and certainly the more popular figures on the trail, are complete with great amounts of interesting information.
Finally, the app has a section entirely devoted to high quality videos, so blues fans can watch not only blues videos but small documentaries and interesting tidbits entirely devoted to the blues.
Overall, this is an extremely impressive App, one that blues fans will be able to use to great effect to get their blues fix. It is impressive that this app is free. Typically, free apps come with ads, missing features, half-completed, rife with bugs, or all of the above. This app has a great many extremely useful and entertaining features and does not cost a dime. Any blues, music, travel, or Mississippi fan would be better off with this app.