This is the first of three reviews in a week-long series on new biographical books of delta blues men, written by Mike Rugel, who hosts the Uncensored History of the Blues for the Delta Blues Museum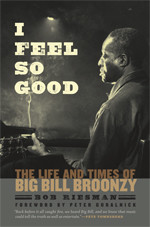 It's a good time for fans of pre-war blues to hit the bookstore. Books about three artists that recorded before World War II, Big Bill Broonzy, Son House, and Mississippi John Hurt, have all hit the shelves in recent months. Bob Riesman's I Feel So Good also comes on the heel of another Broonzy bio, Roger House's Blue Smoke. It's a somewhat astounding–but very welcome–development that two books on Broonzy could appear only seven months apart. Riesman's well-researched account of Broonzy tells the story of the bluesman's rise from rural Arkansas to world-wide acclaim. The author brings Broonzy's character alive on the page, once the reader reaches the late 40s and 50s. It's somewhat surprising that Broonzy was a prolific letter writer in these years, but his letters allowed Riesman to bring Broonzy to life on the page.
When writing the book, Riesman faced a unique challenge: Broonzy had written his own autobiography, Big Bill Blues. But Broonzy's was a vehicle for storytelling, not a book telling the facts of Broonzy's life. Similarly, in countless interviews throughout his life, Bill would describe personal experiences to illustrate some point whether that experience was a part of his own life or not. For example, Broonzy described in detail his World War I experience that provided great light on the African-American experience in the military. But Riesman finds the evidence shows that Broonzy never served. He seemed to internalize the stories of brothers and neighbors and passed them on as his own. Riesman works to straighten out the facts, but no matter what he finds, it illustrates how Broonzy's role as master storyteller applied to every aspect of his life. The truth of the details wasn't important to him if the story conveyed a greater truth. It was the same skill that made him one of the greatest songwriters in the history of blues music with songs like Key to the Highway.
Broonzy was born Lee Conley Bradley in Arkansas, where he learned fiddle at a young age. It's remarkable how many ways Broonzy's career served as a template for future bluesmen to follow. He moved from the deep south to Chicago, where he served as a mentor for other musicians. When the electric sound of Muddy Waters and Howlin' Wolf became popular and Broonzy's sund was outdated, he found a new audience of white folkies. He became the first blues performer to regularly tour Europe, where he found new love interests along with new fans. After he died in 1958, the path was open for musicians like Hurt and House to return to playing on a fully formed folk music scene that would embrace them.