Grammy-winning blues harmonica master James Cotton,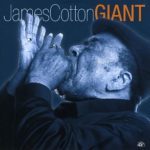 who is currently celebrating his 67th year as a professional musician (beginning at age 9) will be postponing and rescheduling a number of appearances because of hip replacement surgery. He will be off the road from November 10 through mid-January 2012. All missed dates will be rescheduled as soon as possible.
In a message to his many fans around the world, Cotton said, "I'm sorry to have to disappoint my fans by postponing and rescheduling some dates, but I need to get this taken care of so I can be back at full force early next year. You can expect me to be dancing across the stage next time you see me."
Cotton's recent Alligator CD, Giant, received a Grammy nomination. Cotton has recorded 28 solo albums, including two highly-regarded releases for Alligator in the 1980s and the famed Harp Attack! with Junior Wells, Carey Bell and Billy Branch in 1990. The New York Daily News calls Cotton "the greatest living blues harmonica player." The New York Times adds, "Cotton helped define modern blues harmonica with his moaning, wrenching phrases and his train-whistle wails." Rolling Stone says Cotton is "among the greats of all time. He blazes on harp with remarkable and brilliant virtuosity."
Postponed dates:
October 28, 29, 30 – Blues Alley, Washington, D.C.
November 17 – Famous Dave's, Minneapolis, MN
November 18 – Turner Hall, Milwaukee, WI
November 19 – Viper Alley, Lincolnshire, IL