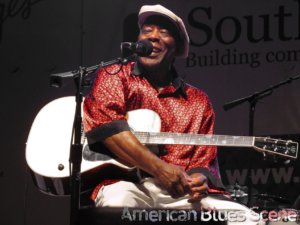 B.B. King may be known as the King of the Blues, but six-time Grammy winner Buddy Guy continually threatens the blues idol's rulership.
The 75-year-old can play fret-burning songs by Jimi Henridx and Stevie Ray Vaughan as easy as 12-bar shuffles by Muddy Waters and Howlin' Wolf, men he recorded with nearly 50 years as a session player for Chess Records.
Guy's blues know no bounds and he will demonstrate that this week with a Thursday (Nov. 10) appearance at the Ridgefield Playhouse, a quiet Connecticut town that borders New York's Westchester County.
Guy's albums, as great as they are, don't do him justice. The expert guitarist and charismatic showman has to be experienced, not merely listened to. His energy is boundless. His charisma can make a racist woman fall in love with him. His guitar wizardry is truly inspiring.
Playing behind his head, playing with his teeth, Guy was doing that years before Jimi Hendrix, who once asked Guy for permission to record one of his shows.
One can go on and on about Guy's playing and his voice, both of which employ dynamics to great effect, but Guy's skill and impact is perhaps best represented by the words of two rock guitar gods – Hendrix and Eric Clapton.
Hendrix, generally considered the greatest guitar player ever, once said, "Heaven is laying at Buddy Guy's feet while listening to him play guitar."
Clapton once told an interviewer: "Buddy Guy is by far and without a doubt the best guitar player alive." Yet another six-string legend, Keith Richards of the Rolling Stones, was compelled to remove his guitar and offer it up to Guy immediately after he stole the show assisting on Muddy Waters' "Champagne and Reefer" at a 2006 concert at the Beacon Theatre. The striking cover can still be seen in full clarity on the Martin Scorsese-directed "Shine A Light" rockumentary.
Guy's gig at the Ridgefield Playfield is only his second show in Connecticut this year. His first 2011 appearance in the state – back in May – was limited to Greenwich residents, as he headlined the Greenwich Town Party, an all-day music festival in a high-income town that boasts Motown legend Diana Ross, Regis Philbin and director Ron Howard as town folk.
Guy's Ridgefield gig is not only the first chance for the rest of Connecticut to see him since he played The Klein Auditorium in Bridgeport almost a year-and-a-half ago, it's also a doable drive for residents of the Big Apple, as the 500-seat playhouse is only about an hour-and-15 minutes from Manhattan. The playhouse, designed in the 1930s by architect Cass Gilbert Jr., son of the man behind the Supreme Court Building in Washington, D.C., and the Woolworth building in New York City – once the tallest skyscraper – is a non-profit theater that regularly supports the blues. Robert Cray is scheduled for next month and Marcia Ball, an eight-time Blues Music Award winner, will be coming in February.
For more information about Guy's appearance and the Ridgefield Playhouse in general, log onto http://ridgefieldplayhouse.com/