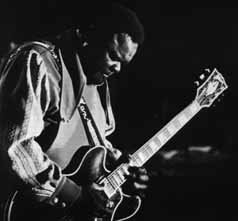 Thirty six years after his untimely and tragic passing at 42, blues master and rock n' roll pioneer Freddy King will take his rightful place in the Rock n' Roll Hall of Fame as part of the 2012 inductee class.
As a young man, King was a staple on Chicago's famous south side during it's heyday, where Muddy Waters, Howlin' Wolf, and the Chess Records family reigned supreme. Freddie spent years playing in clubs and as a sideman while honing what would soon become his extraordinary craft. After years of marginally received work, Freddie cut a number of hits in 1960, including the instrumental "Hide Away", which reached #5 on the Billboard R&B Charts, "Have You Ever Loved a Woman", and "Sen-Sa-Shun", all of which are now standards. Eventually, the tone master would record with the fabled Atlantic Records and share the stage with Eric Clapton, who considered him a strong influence on his own work, and Sam Cook, among many more.
His influences are instantly recognizable in the development of modern music — from stunning covers, like a version of "Hideaway" from John Mayall's Bluesbreakers, which featured Clapton, to Clapton's own version of "Have You Ever Loved a Woman", which he has frequently played since 1970. King has been a part of Rock n' Roll lore for years, even having several lines about him being up all night and playing poker in the famous single "We're An American Band" by Grand Funk Railroad, who toured with King. Ultimately, King's attacking finger-heavy guitar style, mournful vocals, and instantly recognizable sound have rightfully earned him a place as one of the "Three Kings" of the Blues, along with B.B. and Albert. King's position in the Hall of Fame is a well-deserved accomplishment.
The Rock Hall had this to say:
Guitarists ranging from Eric Clapton and Mike Bloomfield, to Peter Green, Jeff Beck and Carlos Santana have all acknowledged their debt to Freddie King (1934-1976), the "Texas Cannonball." His '60s classics, "Have You Ever Loved A Woman," "Hide Away," "You've Got To Love Her With A Feeling" and "The Stumble" are part of the DNA of modern electric blues.