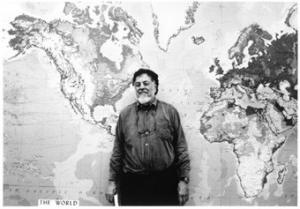 The famed folklorist and musicologist Alan Lomax is finally achieving his dream of a "global jukebox", as a large quantity of the traditional music hero's vast collection of recordings go live on what would have been his 97th birthday.
For decades, "the man who recorded a million folk songs" traveled the back roads and small towns of America, the Caribbean, and dozens of other exotic locations — finding music made by the people, and discovering, just as his father had before him, musical gold. Lomax had envisioned a cross-cataloging system that would allow relational associations between different kinds of music. It would seem that the Association for Cultural Equality, the organization that controls and manages Lomax's collection, is finally making the pioneering anthropologist's dream a reality.
Over 5,000 hours of recordings, 5,000 photographs, 400,000 feet of film, and countless manuscripts are now being digitized and made freely available from Cultural Equality. "It still remains for us," Lomax once famously quipped, "to learn how we can put our magnificent mass communications technology at the service of each and every branch of the human family."
Over 17,000 Lomax-recorded songs will be available to stream live by the end of February. The collection will coordinate the sales of MP3 and CD versions of various tracks as well.
Some Lomax recordings have already been available in various forms, such as prison work songs that were recorded in 1947-48 in Mississippi's infamous Parchman Farm, which a number of original delta bluesmen sang about and, at times, called home. Lomax, along with fellow musicologist John Hurt, was the first to record Muddy Waters in Coahoma County, Mississippi in 1941. Those recordings have been available in U.K. Bootlegs for a number of years, but were officially released as the relatively rare Down On Stovall's Plantation. The amount of Lomax's work that has been released, however, is a small fraction of the vast library of field recordings, studio recordings, notes, documents, radio recordings, and pictures in the Lomax collection.
"It would be difficult to overstate the importance of what Alan Lomax did over the course of his extraordinary career," writer Tom Piazza told the New York Times. Piazza has written an introductory essay for "The Southern Journey of Alan Lomax," a book of about 200 of Lomax's photographs, scheduled to be published in the fall. "He was an epic figure in and of himself, with a musical appetite that was omnivorous and really awe inspiring, who used the new recording technology to go and document musical expression at its most local and least commercial."
Additionally, a new album, The Alan Lomax Collection from the American Folklife Center was released today, January 31, 2012. This collection, compiled by Don Fleming, Executive Director of the Alan Lomax Archive, highlights 16 songs from Lomax's U.S and international field-recording collections.
Alan Lomax spent his life in transit, documenting folk music from across the United States, Great Britain, Spain, Italy, North Africa, the Soviet Union, Morocco and the Eastern Caribbean. Featured here are sixteen selections from his collections at the Library of Congress' American Folklife Center, recorded between 1947-1982. Introduced by a paean to America's greatest folk hero, John Henry, and concluding with one of the country's most enduring lullabies, the compilation combines ballads, blues, dance tunes, and sacred songs from around the U.S. with a Gaelic ode, Galician alborada (dawn song), Genoan chorale, Grenadan shango ritual, Trinidadian calypso, and the ashug bardic music of Azerbaijan. Here is a view of the Lomax collection in all of its breadth, joy, and dignity.
"Because he was so interested in so many different aspects of singing, dancing and speaking around the world," Todd Harvey, curator of the Alan Lomax Collection at the Library of Congress's American Folklife Center, recently told The New York Times in a worthwhile article on Lomax's Collection, "he gathered everything he could find, from disparate cultures."