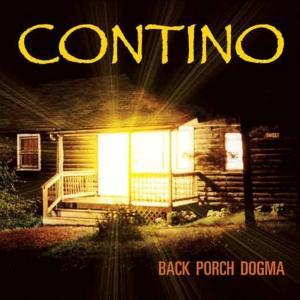 You want something to believe? Well, Contino has the best back porch beliefs in the West, and their new CD Back Porch Dogma, is a delightful place to stop in and hear this blues message. But be warned, you'll be tappin' you feet, and hearing about animals, transportation and other assorted blues messages.
It doesn't matter how you get here. You might take the Zydeco Train, a tune that's  jumpin' and rollin' along. Or if you're digging a different ride, take the Willie Love V-8 Ford, more of a chugging along, Delta paced tune. No matter, just "point the T-Bird" on the Rotgut Run, and get here!
Once you're here, well, don't ignore the animals. On these Dog Days, you feel the slow sultry heat of the day on the bass of the piano, so hit the porch swing and chill. The Monkey might come by. A nice New Orleans styled zydeco flavor, with a beautiful accordion solo. And don't ignore Three Cool Cats, a Lieber/Stoller song with a Contino style Zydeco, swing band feel.
And dig this music! Dino's is a blues grassy, mandolin featuring tune about the downtown "holy water"-ing hole. One Thing has two styles! The verses are a Nawlins funk, and the choruses sound like Motown. Taint is a mix of shuffle rug cutting drum with a piano that is the almost rhythmic opposite. Five chords against the shuffle in one bar! And a slide, piano and accordion solo.  They cover Jim Liban's  I Don't Want to Know, with its straight ahead driving blues groove. If the "we need to talk" bass line on Nothing You Can Do doesn't almost make you cry, you're not alive. Big Tent has a wonderful gospel feel to it as it builds with the duet of Maria Mulduar, the hand claps, and then takes off on a slide guitar solo. There's a cover of Tom Wait's Temptation, and this song; oh boy. That Paris cafe Django jazz feel, starting with a slightly quickened feel, and smolders from there. A perfect song for Django style jamming in a place like Dino's!
Contino is a Las Vegas based five man band with a Zydeco, Delta blues sound with,  mmm, is that a Creole hint? The band is headed by Pete Contino, son of legendary accordionist, Dick Contino (Ed Sullivan 48 times!). The band on this Blind Pig recording is Al Ek, Billy Truitt, Rob Edwards, and Jim Lovgren, with Joel Jaffee (percussion) Omega Rae and Suzan Z on backing vocals, and Maria Muldaur on duet vocals.  This is a tight, balanced, good time band, and recording.
So c'mon up to Continos Back Porch Dogma, and you'll find a blues message to believe in.