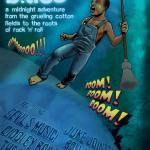 For the first time ever, the blues has come to life in a comic book. The full-color, 24-page glossy comic book called The Blues: A midnight adventure from the grueling cotton fields to the roots of rock 'n' roll, tells the story of a young boy from the Mississippi Delta in the 1930s as he discovers the blues and follows it throughout his life, from juke joints to the Great Migration north to electric blues and the beginnings of rock 'n' roll.
Now you can win a copy of this down-home-tech-savvy adventure for yourself! American Blues Scene has two FREE downloads of Midnight Adventure, and everyone on our Mailing List is eligible to win! This fantastic comic, which we discussed earlier this month, was designed to support blues education programs like Blues in the Schools. Comics keep students entertained, and the book, crafted by Blues Comix, is a valuable resource for engaging students while they learn about the rich history of the blues in a way that is relevant to them!
The contest is running for a limited time, as the download codes expire soon! Just find our fan page on Facebook, sign up, and click "I want win a free copy of the iPad/iPhone Blues Comic Book!" and you're entered to win!