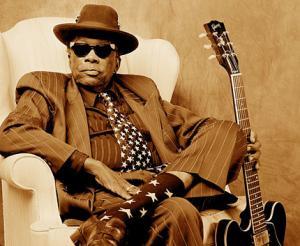 (DETROIT, MICHIGAN) – John Lee Hooker, the dynamic and immortal bluesman who continues to be one of the most influential figures in music, has announced his official independent candidacy for presidency in 2012.
The now-presidential hopeful called a press conference in front of a small blues bar in his adopted hometown of Detroit. With over 1,000 fans and press in attendance, the legendary musician, while holding a Gibson guitar, simply said: "My name is John Lee Hooker, and I am going to try to be President." In a brief yet stirring speech, backed by repetitive guitar riffs and foot stomping, the Grammy-winning bluesman stated his frustration at the current sytem with an unprecedented intensity — to the enthusiastic, screaming echos of the crowd.
After his opening statement announcing his intention for candidacy, Hooker immediately addressed his lack of political background, stating that "political backgrounds haven't done much for our country lately but bring it down", calling on his fans and the public at large to put a fresh, uncompromising perspective in the white house. Hooker also cited his experience as a long-time bandleader and deeply-rooted, fifty year knowledge of industry and business in his ability to lead the American people.
Hooker cites friend and fellow musician Ry Cooder as an inspiration for formally announcing candidacy, and intends to use the talented and accomplished Cooder to coordinate the theme music for his campaign, which will likely be composed largely of the Bluesman's own repertoire. With a sly smile, he also hinted towards a hopeful collusion with long-time friend George Thorogood.
"They said Presidents don't have time for the blues. I say, look man, everybody has got to have the blues sometimes. So as president, I will always have time for the blues." The candidate then leaned back in his chair and played a quick yet soulful guitar lick, building intensity before mentioning his upbringing in the heart and soul of America; the Mississippi Delta, before striking out to the Motor City to be independently successful.
After outlining his platforms, including his ambitious plan for increasing the GDP, largely through an increase in the production of Stetson Hats, Cadillacs, and semi-hollow body Guitars, and large-scale tax breaks for each, the presidential hopeful had a tongue-in-cheek quip about plans for his stay in the White House. "Recording Studio. I'm gonna call it 'Boom Boom at 1600′." The iconic musician also mentioned renovating the White House's famous Blue Room to showcase his collection of guitars.
About his stiff competition from various political parties in the candidacy field, including Republican hopefuls Newt Gingrich and Mitt Romney, the freshly minted candidate had some critical words. However, when asked about Democratic President Obama, who will be running for re-election, the bluesman cracked a sly smile out of the corner of his mouth. "I don't like all of President Obama's policies… but I sure like that he named his dog after my good friend, Bo Diddley."
When asked about his defense plans for the often-dirty game of political bashing, the musician threw himself against the back of his chair. "Let 'em run a smear campaign against me!" Hooker boomed in his characteristically deep, gravelly voice. "I'll even give 'em the smear: He's a bluesman!"
John Lee Hooker closed by announcing that his official campaign website can be found at HookerForPresident.com