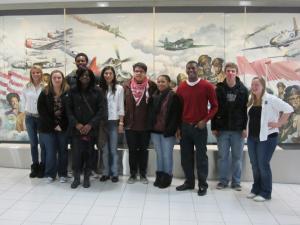 In recognition of the impact of Blues Music on American culture, and in conjunction with Black History Month, President Obama and the First Lady will be hosting a number of blues artists at 1600 Pennsylvania Ave.  tomorrow, and as part of the celebration of the blues, have brought 120 high school and jr. high students from across the country to a formal event at the white house to learn about blues music.
American Blues Scene was on hand as the National Blues Museum, members of the press, and families gave a grand farewell to ten of the best and brightest students from Saint Louis. These ten students will be spending time with blues musicians and First Lady Obama as they learn about blues music and it's vast impact on American culture. During the event, all students will be boasting unique National Blues Museum shirts to support the upcoming museum, which is located in their hometown of Saint Louis.
Among the artists performing, some of whom the students will be meeting, are B.B. King, Keb' Mo', recent Grammy winners Susan Tedeschi and Derek Trucks, Jeff Beck, Gary Clark, Jr. Warren Haynes, Troy "Trombone Shorty" Andrews, Shemika Copeland, and Mick Jagger. Booker T. Jones will act as the band leader, and Taraji P. Henson will be hosting the program.
On Tuesday, Michelle Obama, along with the Director of the Grammy Museum, Robert Santelli, will be doing a workshop entitled  "At the Crossroads: A History of the Blues in America." Several performers will be on hand to speak with the kids and share their experiences. Santelli will be leading a lesson on the development of the blues, it's history, and how the influential art form known as the Blues has been the basis of nearly every popular development of American music, from Rock n' Roll to Rap and R&B.
The event will be streaming live from the White House. See the full article on the performance experience here.