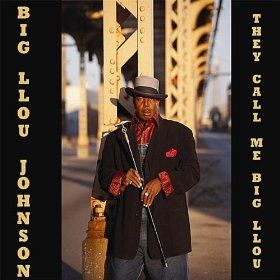 They call him Big Llou, the well-known voice of the "Ten Commandments of the Blues" on B.B. King's Bluesville, because he weights 300 pounds — and he wants the world to know it. Sporting an instantly recognizable, famously baritone voice and, for those that have seen him in person, a powerful build and an endlessly stylistic appeal, Big Llou has recently released his first solo album, They Call me Big Llou. The album grooves along funk, traditional Chicago blues, and some slow, slutry numbers as Llou graces the wax with his smooth-as-silk vocals.
The tracks are a diverse musical showcase with consistent themes of love, sex, and blues. The album starts off with "They Call Me Big Llou", a Chicago blues styled staple, prominently featuring Llou's trademark voice as he woos a woman. "Dogg" features a more funk-driven, soul style, while "Flesh and Blood" is a sultry slow jam about a burning love. As sexy as the tracks are on the album, it's no surprise that Llou expertly covers Barry White's "Your Sweetness is my Weakness," complete with inviting backup vocals.
The eight-track album clocks in fairly short but sweet, and with two covers, the all-too-fitting "Three Hundred Pounds of Heavenly Joy" and "Rock Me Baby", listeners may be left waiting anxiously for new material from the old-school-cool renaissance bluesman. Ultimately, They Call me Big Llou is a great collection of memorable tracks. Big Llou's vocals are mesmerizing — a fact re-enforced by his many, many appearances on film & radio as a voice actor — and his voice is no less powerful in song. Creating the sound behind the man, the band is composed of top notch talent. Russ Green, playing support on harmonica, shines in all of the right ways. Charles Pryor takes up the trumpet to strong effect, often creating the smooth Jazz that gives slower tracks the extra edge. Mike Wheeler on guitar gives the album that Chicago Blues backbone, while Ronny Hicks, who takes up the keyboard, provides great fills and solos. Dejuan Auston keeps a strong beat on drums, and Armirris Palmore & Keith Stewart make up the essential background vocals.