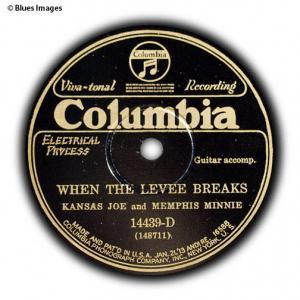 Today we're bringing you another entry in American Blues Scene's exclusive "Brief History of a Song" series.
When the Levee Breaks is a widely famous and popular blues song dating all the way back to an unprecedented flood that devastated Mississippi in the 1920s. Since then, the track has continued to weave it's way into popular culture, solidifying it's place in music history thanks to one of the most iconic rock bands of all time.
Levees were a particularly common theme among the original delta bluesmen. For those unfamiliar with living close to a river, levees are giant mounds of packed dirt, built along the river ways, so during a flood, the water doesn't immediately spill into the towns and farms. If a river floods too long and too much, however, levees can become saturated and break. If the water level becomes too high, it can flow over the top of a levee.
Levees were and continue to be an everyday way of life in the Mississippi delta, a several-hundred mile area of upper Mississippi that is extremely flat and historically prone to flooding by the mighty Mississippi River.
In 1927, the Mississippi swelled to enormous proportions, smashing through levees and seeping billions of gallons of floodwater into the area, destroying towns, homes, farms, and everything in it's path. Residents of the delta, (many African-Americans reportedly at gunpoint,) scrambled to build more levees higher. People took shelter on top of levees, the only high points in the area. Desperate measures eventually failed and the swollen river broke through levees, killing hundreds and causing the most expensive natural disaster in American History. Afterwards, conditions worsened. Without a crop to farm, many blacks, who's only available means of employment in the deeply racist south was often sharecropping, had no jobs and no means of income. Many of their modest homes, rented to them by plantation owners, were gone. A great deal of African-Americans were left defenseless & penniless in ramshackle levee camp tents with no food, no money, and no roofs. As a result, most had no choice but to leave for the North in search a better way of life.
A great many original bluesmen sang about the terrible conditions of the levee "camps", including Son House and countless prison workers, several recorded by Alan Lomax, but none so famous as Memphis Minnie, who along with Kansas Joe McCoy, recorded "When The Levee Breaks" two years after what became known as the Great Mississippi Flood of 1927. The song was played in a loose ragtime style, with the narrator worrying about what will happen if the levee that protects him and his home is washed away.
If it keeps on rainin' levee's goin' to break
If it keeps on rainin' levee's goin' to break
And the water gonna come in, we'll have no place to stay
Well all last night I sat on the levee and moan
Well all last night I sat on the levee and moan
Thinkin' 'bout my baby and my happy home
Levee continued to be a standalone snapshot, depicting the fear and damage of the flood from a first-person perspective for four decades before it's explosion in popularity.
In 1970, Led Zeppelin, a band that had shot to unprecedented meteoric fame, went into the studio to record their fourth album. Much of their musical library thus far had been heavily based on original delta blues, about which the band members were fanatical. A mournful, forty-year old song on breaking levees in the Mississippi Delta was a natural fit.
The band set up in Headley Grange, a house-turned-studio, and famously placed John Bonham's drums in a hallway/stairwell — which captured a unique "heaviness" that has since been repeated (and sampled) countless times. As the band fed the music to the on-loan Rolling Stones' mobile recording van outside, they played a slow-burning, goosebump-raising cover of Levee, adding a haunting, backwards-echoed harmonica and subtly bringing in new sounds every twelve bars. The track became a massive hit and nearly immediately solidified the song's place in music culture.
Since their 1970 release, the song has given rise to countless different interpretations and variations. Bob Dylan's recent Modern Times album includes a version. Buckwheat Zydeco has a funky, deep-south, B3-heavy cover. Blues guitar rocker Dudley Taft crafted a wild overdriven version on his most recent Left For Dead album. Gov't Mule often plays a live cover, with furious slide and Hayne's built-for-blues vocals.
John Bonham's drums alone have been sampled dozens of times by pop and rap acts, including Eminem, Puff Daddy, Massive Attack, Beastie Boys, Depeche Mode, and many others.
Forty two years after Led Zeppelin's legendary cover, which was created forty one years after Memphis Minnie's mournful original, the nearly century old song shows no signs of slowing — it's footprint indelibly etched into nearly every genre of popular music today.
When the Levee Breaks
Memphis Minnie & Kansas Joe, 1929

If it keeps on rainin', levee's goin' to break
If it keeps on rainin', levee's goin' to break
And the water gonna come in, have no place to stay

Well all last night I sat on the levee and moan
Well all last night I sat on the levee and moan
Thinkin' 'bout my baby and my happy home

If it keeps on rainin', levee's goin' to break
If it keeps on rainin', levee's goin' to break
And all these people have no place to stay

Now look here mama what am I to do
Now look here mama what am I to do
I ain't got nobody to tell my troubles to

I works on the levee mama both night and day
I works on the levee mama both night and day
I ain't got nobody, keep the water away

Oh cryin' won't help you, prayin' won't do no good
Oh cryin' won't help you, prayin' won't do no good
When the levee breaks, mama, you got to lose

I works on the levee, mama both night and day
I works on the levee, mama both night and day
I works so hard, to keep the water away

I had a woman, she wouldn't do for me
I had a woman, she wouldn't do for me
I'm goin' back to my used to be

I's a mean old levee, cause me to weep and moan
I's a mean old levee, cause me to weep and moan
Gonna leave my baby, and my happy home