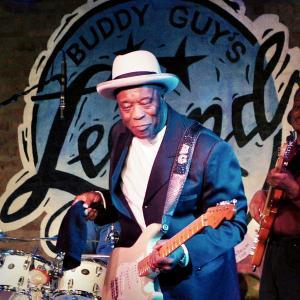 As you may know, Buddy Guy only plays at his bar, Buddy Guy's Legends, in January of each year. He does 4 shows a week during that month. The weekend shows sell out quickly, but the Thursday and Sunday shows are packed as well.
I got the chance to attend a Thursday show this year. It was my first time visiting the 700 S. Wabash location that Legends moved to in 2010. The first floor looks amazingly similar to the older location that opened in '89. The main improvement at the new location is the second floor, with its own bar and pool tables, and of course additional wall space to display more of Buddy's amazing collection of guitars and blues memorabilia, signed by all of the greats. It is truly a museum of the Blues; if you're ever in Chicago you would be doing yourself a favor going there — if just to see the collection alone.
The Buddy Guy shows have their own unique ritual. The doors open early (like, 11 am), and even on Thursday, all tables and most bar stools on the main floor were taken by the time I got there at 5:00 pm. After they fill up, it's standing room only the rest of the night. Not too surprising, until you realize that Buddy himself doesn't hit the stage until 10:30 pm! The drink prices are reasonable, but you can run up a pretty substantial bar bill (and buzz) in 5 ½ hours if you're not careful. Best to get some food, which is very good and also reasonably priced. They have a nice variety of southern style and Cajun food as well as burgers, etc.
I've only been to Legends a couple of times, but the music was always way above average. This was true this time as well. The first warm up band started around 5:30 or 6, and was a 3 piece made up of guitar/vocals, drums, and keys. I found out later that the keyboard player was a member of Buddy's band. The lead singer played a vintage looking Tele through a blackface Fender Twin Reverb. As a guitarist myself, I usually have one of two reactions to seeing a wonderfully talented player: I am either inspired to work harder and strive to bring my skill closer to his level, or am discouraged and ask myself repeatedly "who do I think I'm kidding by playing in front of an audience", when I am nowhere close to this guy in skill. This time I had the second reaction. This guy wasn't much to look at, and was a decent singer, but he killed on that guitar!! The keys guy was skilled on B-3 and piano, with a New Orleans style. He even sang like Dr. John. They closed out the set with Tipitina, the classic Big Easy tune.
Buddy's official opener was a very cool and pro band. They were a 6 piece with two guitars, bass, keys, drums and sax. The lead guy was an experienced bluesman, played a Gibby 335 along with a cheapo keyboard of some kind (he made it sound like the best!). Great crowd involvement and musical skill, rousing the crowd with the finale "Sweet Home Chicago".
Around 10:30, it was time for Buddy Guy. Concert reviews on the blues king's shows are a dime-a-dozen, so we'll suffice it to say that if you've never seen Buddy Guy, you have to find a way. He plays at home only in January (plus maybe a festival here and there) but tours a lot. Buddy is one of the best showmen to ever have lived. He seems to be having the best time of his life every time he hits the stage, and is an expert at bringing you in so that you feel like he's playing just for you. This night was no exception. He has the energy of a 20 year old, and the man is 75!
In summary; great venue, great food, reasonable drink prices, and fantastic show. Don't miss it if you can possibly go. Remember, Buddy's 75 years old!