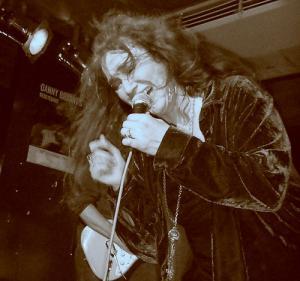 Cee Cee James has a voice made for the Blues. Deep, raspy and full of soulful emotion. Her innate ability to interpret the blues has brought scores of fans through her intense live performances in both the U.S. and Europe. Now the hard charging, hard working blueswoman is making what she calls her most exciting album yet, and is turning to blues fans for support.
Cee Cee James has a long story, like most deeply seasoned blues artists who give it hard, raw and real – right into your heart. Cee Cee is an artist who's career spans a long and adventurous journey.  James released her award-winning, all original pop/funk release Spiritually Wet in 1999, and since then has been busy writing and recording the blues of her life, which took a hard hold in 2002, when she left a bad long term marriage only to lose her next man — a two-time Veteran to cancer — in 2004. The blues finally died down some in 2008, with just enough time for her to record and release her first blues album. Cee Cee was then signed to Blue Skunk Music in Chicago in late 2009. During this time, both of her Blues albums, Low Down Where The Snakes Crawl, and Seriously Raw (2010), hit and rode the national and international charts, garnering a #1 on Cashbox, receiving endless great reviews, and achieving rank on many Top Ten Lists.
Since the release of Seriously Raw, which also made Burnside Distribution's "Top 10 Movers" list, Cee Cee and her Blues songwriting partner and husband, Rob "Slideboy" Andrews, have found themselves experiencing another level of Blues they never expected.
Moving to Tennesse in late 2010, and currently in St. Louis, they have lost their home in Washington along with over $100k in equity — the money Cee Cee and Rob expected to continue to live on and make music with. To continue her profession as a professional musician, Cee Cee has taken out a credit card loan to pay for the their new release Blood Red Blues, and is appealing to blues fans and friends through her new Kickstarter Project.
Taking a leap of Faith, Cee Cee and Rob have gone into partnership with Jim Gaines, who famously produced albums by Stevie Ray Vaughan, Luther Allison, Neville Brothers, John Lee Hooker, Albert Cummings and many more, to help bring out the best of the music on Blood Red Blues. 
"BLOOD RED BLUES is our 3rd and most exciting CD to date," says Cee Cee. "Deeply rich in human emotions expressed in lyrical and melodic vulnerability."