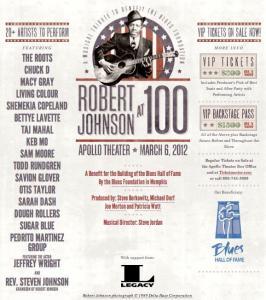 Producers announced today the first artists confirmed to play a special March 6 tribute concert at New York's historic Apollo Theater, celebrating the centennial of legendary bluesman Robert Johnson. The initial, star-studded lineup includes The Roots, Shemekia Copeland, Bettye LaVette, Taj Mahal, Keb' Mo', Sam Moore and Todd Rundgren. Recently, Elvis Costello, Otis Taylor, Sugar Blue, Living Colour, Macy Gray, Chuck D and others have been added. Net proceeds from the concert, co-produced by Steve Berkowitz, Michael Dorf, Joe Morton andPatricia Watt, will go to provide funding for The Blues Foundation's Blues Hall of Fame in Memphis, Tennessee.
"Robert Johnson's story is the fabric of myth," comments producer Joe Morton. "His music continues to weave its way, beyond the blues, into and through almost every other popular genre today. Our concert is a celebration of the man, the myth, and the omnipresent influence of his music.
The Blues Hall of Fame is a historical record of those who have made the Blues timeless through performance, documentation, and recording. Since its inception in 1980, The Blues Foundation has inducted new members annually into the Blues Hall of Fame for their historical contribution, impact and overall influence on the Blues.
To order VIP ticket packages at $300 and $1500, click here.
Regular tickets are $45, $60, $75, $90, $125 and may be obtained in person at the Apollo Theater Box Office or online at Apollo Theater.
To order by phone, call Ticketmaster 800.745.3000. You may also order online atTicketmaster.com
For more information about the concert, please contact Brendan Gilmartin(bgilmartin@shorefire.com) or Matt Hanks (mhanks@shorefire.com) at Shore Fire Media – 718.522.7171.
For more information about the Blues Hall of Fame, contact Jay Sieleman, Executive Director, The Blues Foundation at jay@blues.org or 901.527.2583 ext. 12.