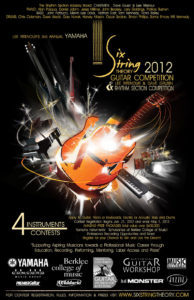 Guitar wizard Lee Ritenour, who's technically stunning and endearing album, Six String Theory was released last year, is again holding the third annual Yamaha 6 String Theory Guitar Competition, co-sponsored by Berklee College of Music, National Guitar Workshop, Crown of the Continent Guitar Foundation, Concord Records, Dave Grusin, Premier Guitar Magazine, Monster, James Stroud, Jazziz Magazine, D'Addario String Company, Music Connection, Flathead Lake Lodge, and Captain Fingers Productions.
The contest registration began Jan. 21 & ends May 1, 2012. To enter, applicatins must send in two YouTube videos that are less than five minutes and contain no stops of "non professional musicians" playing solo, duo, or as part of a band. The ultimate goal is for aspiring guitarists to show off their abilities.
There are six categories, including Blues, Jazz/Fusion, Rock, Country, Acoustic, and Classical/Flamenco.
Applicants who wish to sign up must pay a $25 application fee and, after receiving credentials, will be able to send in links of their YouTube videos. 36 Semi-Finalists will be chosen, who will be granted a full-ride scholarship to a number of guitar workshops around the country.
Six finalists will be chosen after the workshops, and will be awarded cash prizes, plus room and board, and will be competing in a live performance setting in August in front of a panel of highly skilled and trained professional judges.
The winner will receive a guitar and an endorsement deal from Yamaha, as well as $100 in gear from Planet Waves or D'Addario String Company. Concord Records will consider the winner for a recording contract. Additionally, the winner will receive a vacation package and a guaranteed position at next year's Guitar Workship Clinic Tour. Lee Ritenour has agreed to work closely with the guitar winner.
All runners up will receive a Yamaha Guitar, and the first and second runners up will receive additional gear.
Additionally, there will be a Rhythm contest with an opportunity to record rhythm on an upcoming album.