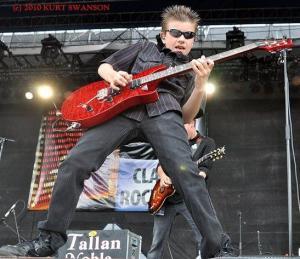 Tallan Noble Latz, the twelve year old blues-rock guitar master, in conjunction with Road King Entertainment Group, is proud to announce the launch of his 2012 tour with his Nashville-based band in support of a new EP.
Tallan, the youngest bluesman to ever be invited to share the stage with guitar champion Les Paul and, as a viral sensation that boasts over 20,000,000 YouTube views, has regularly been in the news and in the national spotlight since he was eight years old — in good reason. His unique and creative ability on the guitar is shockingly powerful for any age, and the development of his larger-than-life stage presence and persona is an unbridled characteristic that would take most guitar players a lifetime to achieve.
Latz's many talents have led him to trade licks on-stage with an amazing roster of artists, including Buddy Guy, Walter Trout, Jackson Browne, and Joe Bonamassa, to name a few of the vast number of esteemed musicians on the twelve year old's resume. He has made appearances on the Today Show and America's Got Talent.
A powerhouse soloist with creative, burning licks, and the quintessential All-American boy who, at twelve years old, is living the dream, Tallan Noble Latz is one of the most entertaining performers on tour today. Tallan is currently booking for a Summer & Fall 2012 tour. Provide your festival or venue a unique and truly unforgettable show that your patrons won't stop talking about. Book Tallan Noble Latz today.
For booking or to set up an interview, contact Road King Entertainment info@roadkingent.com
American Blues Scene spoke with Tallan back in February of last year, and the enthusiastic young guitar slinger had some fascinating things to say about his already-prestigious career.