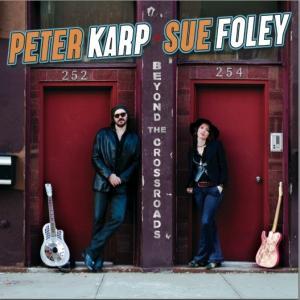 Storytelling! They've got energetic stories. Just read their bios on their web site! The musical influences are a list longer than the arm. Can you imagine scoring Dylan's "Highway 61 Revisited" when you're 8 years old? Or reciting poems as a child, hanging out in pubs with your dad and hearing what went down? Such is what makes up the duo of Sue Foley and Peter Karp, in this second collaboration of theirs on Blind Pig Records titled, Beyond the Crossroads.
These two are skilled veterans. Each has many credits to their individual names that they bring to the table,  throw in their skills on their instruments; the National Steel Resonator and Alumisonic guitars, and you know  you're in for a great treat. C'mon, alloy guitars? Granted, not their only instruments, but predominant on this recording.
Their band is people they've worked with: Niles Terrat and Mike Turenne splitting bass duties while Mike Catapano and Ken McMahon split the drum duties, the Swingadelic Horns (Carlos Francis, John DiSanto, Mark Miller, Paul Carlton),  and background vocals of James Alexander, Rosalind Brown, and Charity Dawson.  A very solid sound that reveals the chemistry they have together, which is exemplified by the opening and closing songs.
We're Gonna Make It,  is a good opener with a positive message as well as a solid groove, the Swingadelic horns blaring away in the background in this great duet piece.  The closer is You've Got a Problem, a song with a boogie piano groove. Polar opposites! But so Yin/Yang as the energy of this recording reflects the energy that exists between the two stories whose names grace the cover.
That energy is partly reflected in songs which are duets: Fine Love, which so sounds like a John Hiatt Tennessee number, At the Same Time, which has a New Orleans march cadence to it and a delightful muted trumpet, and More Than I Bargained For, a Mellenkamp/Huey Lewis pop rock meets the E Street groove complete with saxaphone. These two play together well!
Musically the energy is always there, from the alloy guitars to Swingadelic horns, to acoustic pieces like Take Your Time, a number that hearkens back to the Woodstock vibe; and Chance of Rain, a nylon string guitar and acoustic piano tune that has a great poetry folk feel. Plugging in again, Resistance has a Bonnie Raitt slide groove with vocals that sound more like Edie Brekell/Shawn Colvin with a blues edge, Analyze'n Blues opens with that same 80's girl vocal delivery until the fat slide brings us to the home to the straight up plugged in blues groove; the Derek and the Dominoes meet Springsteen New Jersey in Beyond The Crossroads, the Jude Cole groove of Blowin', and the instrumental: in drumming they refer to this as Groove 1 FAST! Basic and all out! The dueling Alumisonic and Resonator go at it, with a tinge of bluegrass lick in there. A minute and a half of pure get down titled Plank Spank!
Beyond the crossroads, that place of decision about direction, is where energies can synthesize, where two can merge, or go separate ways. In this album by Sue Foley and Peter Karp, they demonstrate beautifully what it means to merge Beyond the Crossroads.