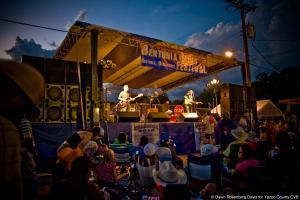 We're thrilled to have the Bentonia Blues Festival as one of our esteemed supporters. Bentonia is an endlessly intriguing subject in both contemporary music and blues history, and the Bentonia Blues Festival is one of the most authentic, oldest blues festivals around — put on by none other than Bentonia blues legend Jimmy "Duck" Holmes. This year, the festival celebrates it's fortieth anniversary by taking it back to where it began — the Holmes farm.
For four decades Duck and his family have been spearheading the prestigious festival, nestled in a small town close to Jackson, deep in the Mississippi Delta. For years, the festival was held at the Blue Front Cafe, a longstanding, famous juke joint with it's own Mississippi Blues Trail Marker, owned and operated by Duck (and his mother and father before him). For this week's upcoming festivities, however, the fortieth anniversary will take place at the same site as the very first festival, on a road (Wilson-Holmes Rd.) named after the family that has continued to bring so much music to the little town with a big history.
Way back at the very first Bentonia festival, famed area deejay and vocalist Lee "Big Daddy" Hood, the self-proclaimed "500 pounds of blues" played the event. Hood, who sang lead for the Knee Deep Band, which was a staple at the famous Subway Lounge in Jackson, MS, appeared that day "sans band".
Staying true to form after decades, the festival continues to support an exclusive stable of regional musicians. The Bentonia Blues Festival celebrates not only the fascinating history of the Bentonia "school" of blues, defined by haunting minor tunings and songs like Skip James' "I'd Rather Be The Devil", but also the diverse delta sound and showmanship of some of the best the area has to offer, including Bill Abel, Terry "Harmonica" Bean, Lightnin' Malcom, Super Chikan, and more! Of course, the festival wouldn't be complete without one of the most celebrated musicians to come from Bentonia since the enigmatic James; Duck Holmes.
Possibly what makes this festival stand unique from the many others across the country, is the ability for fans of the blues to stand in a place that is brimming with blues legacy, and combine the power of modern music's origins with those artists that are marching to keep delta blues in the ever-more-popular consciousness of music fans everywhere.