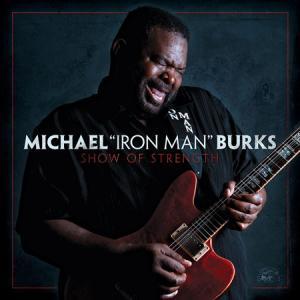 On May 6th, 2012, Michael Burks was returning from a European tour while his wife, Bobbie, awaited him at home. Michael never arrived; he died on May 6th of heart failure, at a mere 54 years old. The sudden loss of such a powerful and influential figure devastated the blues community. He was a giant — and yet such a humble, gentle man. Michael's nickname was "Iron Man" because on stage he would routinely play two and three hour blistering sets. So this then is his final conversation with us… and a memorable one it is.
Sound quality on Show of Strength is excellent: polished and full, but it still has that "loose" quality that lends some intimacy. The band's playing is tight throughout and never stressed or forced. The band consists of Michael Burks – guitars and vocals; Wayne Sharp – organ, piano, backing vocals; Terrence Grayson – bass and backing vocals, and Chuck "Popcorn" Louden on drums and backing vocals. Additional musicians are Roosevelt Purifoy on keyboards and Scott Dirks on harmonica.
The album kicks off with some screaming guitar on "Count On You" that will definitely wake you up; the backing guitar on this is spectacular. "Take A Chance On Me" is a slow burner in the Luther Allison vain and really well played; slow and sweet! "Storm Warning" has some lively guitar breaks with some great organ, nice rhythm section backing and again, some sweet rhythm guitar. Next up is "Can You Read Between The Lines" with it's fine lead lines, killer tone and some old soul-style rhythm guitar licks… seriously, the tone on this cut is insanely good. "Cross Eyed Woman" starts off with a very Tony Iommi sounding riff and quickly moves into a great sliding lead, all done in a take-your-time-don't-rush way that reinforces the groove. "Little Juke Joint" is a slow honky tonk blues with some fine harmonica playing by Scott Dirks, followed by the soul infused "24 Hour Blues." "Valley of Tears" is straight up blues with a kicking backbeat and some stinging leads. Up next is "Since I Been Loving You", the best cut on the album. The vocals and playing on this are relaxed, soulful, sincere, and the band is tight as hell. This is everything a great blues tune should be, and then some.
Rounding out the album are "I Want To Get you Back", "What Does It Take To Please You?" and "Feel Like Going Home." "I Want To Get You Back" has an old-time juke joint feel to it with Wayne Sharp turning in some excellent work on piano. "Feel Like Going Home" is a slow outing, again featuring Roosevelt Purifoy on keys and Burks giving us some killer vocals. As a final gift to us all, "Iron Man" Burks has left us with a fine statement of who he is and what he stood for. Every ounce of playing on this album is a cut above the rest, and every note is right where it should be. Thank you Michael: We will miss you more than you could ever realize.