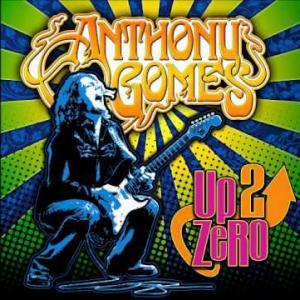 Anthony Gomes is back. Not that he really left — but he IS back, invigorated and full of fire. His new album oozes energy and renewal, and his band is kicking too! What makes this album really interesting is that though there are songs that are not strictly "blues" per se, these still reference blues that the listener will recognize and appreciate. Up 2 Zero is the culmination of all that Gomes has learned over the course of his previous albums and touring.
Gomes is on vocals and guitar; Michael Rhodes is on bass; Greg Morrow on drums; Reese Wynans on keyboards and Glen Caruba on percussion. Up 2 Zero is Gomes' 10th album, coming after 2009's New Soul Cowboys, and it is a winner. First up is "Back To The Start", with some screaming guitar; a great opener. "One Last Time" is a nice slow blues that will remind some of a laid back Leslie West style lead, very nicely done: not rushed, and very satisfying. "Love Sweet Love" has some excellent fills and playing, with some soul infused backing vocals from Vicki Hampton, Wendy Moten and Trez Gregory. "Fly Away" sounds like what Bad Company could have been had they reached their full potential. One of the the best cuts on this album, "Darkest Before The Dawn" just has some sweet guitar playing and Chris Leuzinger does a great job on the rhythm guitar as well. "Room 414" (the room number that Robert Johnson recorded in at the Gunter Hotel) is a quick little bouncy shuffle with some fine pickin'. "Voodoo Moon" is slow, smooth rock with great guitar lines and some gritty vocals from Gomes.
Moving on through the album we come to "Anywhere You Run", which has a soulful, almost "swing" feel to it, and really fine rhythm playing. "Last Bluesman Gone" is a slow old school blues that sounds like it is being played out in a field somewhere; just acoustic guitar, backing vocals (great job again!), and Gomes mournful vocal. "Up 2 Zero" is a rocker with some screaming, well played leads, and a good vocal from Gomes. The album ends with "N'Abandonne Pas", the "French" version of "Darkest Before The Dawn." Gomes states, "My mother is from Quebec City and the French-Canadian culture is a big part of who we are. I am so proud to be able to sing this song in French. For me, it's a highlight on this album."
This album is well played and the band is tight throughout. The backing vocals are great, and Gomes' vocals might even remind some of a hint of Rory Gallagher. This is a well rounded album with great cuts. It's a great way to spend 40 minutes. Pick it up!