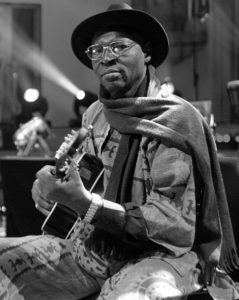 In the town of Niafunke, in Mali, Ali Farka Toure is a legend. He spent the last few years of his life as it's mayor until his death in 2006. A memorial was raised in his honor, but today, there is something missing in the town's streets. Radical Islamists have taken over the region by force, and introduced a strict social code regarding music: all forms of music are banned in Mali.
The town that is host to the DNA of the blues can no longer listen to the music that was such a rich part of their heritage for decades.
It is widely accepted that the roots of the blues can be traced back to this part of the world, and was documented in Martin Scorcese's film from the early 2000's Feel Like Going Home. Toure appeared in the film, along with American bluesman Corey Harris, and was the first African bluesman to "break through" after he had achieved widespread popularity on his home continent. He was often referred to as "the African John Lee Hooker," and there is a distinct, exciting similarity between Toure's African musical style and what the world knows as the blues. Prior to the Scorcese film, Toure and Harris teamed up for an album in 2002 called, Mississippi to Mali.
Toure enjoyed success in western music publications as well, ranking as high as 76 in Rolling Stone's "The 100 Greatest Guitarists of All Time." Spin Magazine ranked him number 37.
But now the blues of his former homeland are, for the time being, no more. And the residents don't like it. "Music is so much part of our culture,"  says 28-year-old farmer Ousmane Maiga (not his real name) over the phone in an interview with BBC. "It's everywhere here, I miss listening to it over tea with my friends on the weekend. I miss attending wedding ceremonies and baptisms. The town has gone silent," says Maiga "It's way too quiet". The parties to blame are Islamist militants linked to al-Qaeda. They have banned everything they deem to be against Sharia, or Islamic law, including all forms of music. They have jammed the radio frequencies and many musicians have been force to flee so they can continue to play.
The BBC reported that even cell phone ringtones are not safe: militarists have confiscated cell phones with musical ringers and replaced the ringers with spoken verses from the Quran.
Another famous Mali musician, Salif Keita, had this to say "they are destroying our culture, if there's no music, no Timbuktu, it means that there is no more culture in Mali," he adds, sitting in the grounds of his home, located on the small island he owns on the river Niger, outside the capital. Bamako was preparing for a world tour to accompany the release of his latest album.
Ali Farka Toure and many other talented blues players from Mali took the sound they loved, that was a huge part of their very existence, and played it to a captivated international audience… but now Mali has grown silent.
Ali Farka Touré – Amandrai live at Segou Festival