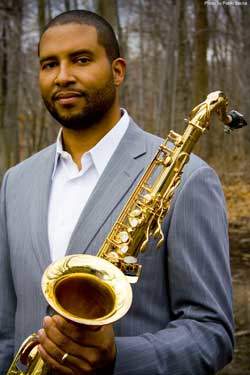 One day after a sick, evil person (who will remain nameless) opened fire on students and administrators at Sandy Hook Elementary School in Newtown, Conn., The New York Times and other sources are reporting that the 6 year old daughter of renowned Jazz Saxophone player Jimmy Greene has been listed as one of the deceased.
This message appeared on Jimmy Greenes's Facebook Page: "Thank you for all of your prayers and kind words of support. As we work through this nightmare, we're reminded how much we're loved and supported on this earth and by our Father in heaven. As much as she's needed here and missed by her mother, brother and me, Ana beat us all to paradise. I love you sweetie girl.."
Greene is of course referring to his 6 year old daughter Ana Greene, who had her entire life ahead of her but was taken from the world in this senseless massacre. The older brother of Ana was also at school at the time of the shootings but is reportedly OK.
The Greene's were newcomers to this close knit New England town, moving here when Jimmy Greene's wife got a job at a local university. Jimmy Greene was reportedly a faculty member at the University of Manitoba's school of music for three years before the family moved to Newton. Greene is known throughout the world as one of the most talented young tenors to emerge in the Jazz scene in recent years. His biography on his website, describes him as a "saxophonist, composer, and bandleader" and has a long list of accolades and musical honors.
The entire American Blues Scene is grieving with the Greenes and all of the other families in Newtown, Conn at this time of incredible loss.
From Greene's 2009 disc Mission Statement, here is his song Ana Grace. May she rest in peace.