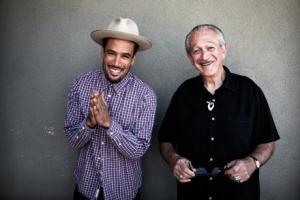 Today, we get a preview of what the upcoming collaboration between two music giants, Ben Harper and Charlie Musselwhite, will to sound like.
The album, Get Up, is expected to be released on Jan, 29, 2013. This will be the first album project that the two, both multiple Grammy Award winners, have made together. The folk, blues, and soul icons from different generations say they've been looking forward to working with one another since they recorded with John Lee Hooker in 1997.
Previously, Harper and Musselwhite have played a number shows together, and have collaborated before on each other's solo work, though this will be the first time they are teaming up for an entire album.
Fans are already eagerly looking forward to hearing the final product, and with two extremely accomplished musicians, the final outcome is bound to be great.
Below is a video of the first single, "I Don't believe a word you say," (Stax Records/Concord Music Group)