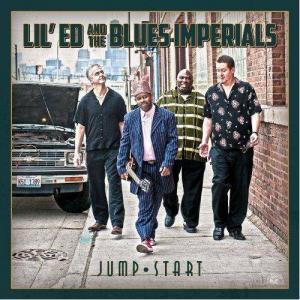 Jump Start is the latest CD from Lil' Ed & The Blues Imperials, and their eighth on Alligator Records. Lil' Ed Williams' uncle was the great Chicago showman J.B. Hutto, and he surely would be proud of this latest effort from the band. The personnel lineup is Lil' Ed Williams on guitar and vocals, Michael Garrett on guitar, James "Pookie" Young on bass and background vocals, and Kelly Littleton on drums. This lineup is the same as it has been for 25 years now. Joining them this outing Marty Sammon on organ and piano.
There is a good mix of fast burners and slow smokers, with several standout cuts. The opener, "If You Were Mine", is a rocker that has a rockabilly tinge to it. "Musical Mechanical Electric Man" is playful and might remind some of Rick Estrin and The Nightcats. "House of Cards" features a very nice controlled scorching guitar solo and is vaguely reminiscent of Jeff Healy. "Jump Right In" is a swinging jump style blues that will evoke memories of a Duke Robillard romp; just really well played, with an excellent solo from Michael Garrett! The best cut of this album, the slow and soulful "Life Is A Journey", was co-written by Ed and his wife, Pam, and features Ed on a long and beautiful solo. It is a stunning piece. Also stunning is "If You Change Your Mind", a slow Hutto cover that features some sweet slide playing from Ed and nice piano from Marty Sammon.
This is a standout album. The playing is loose enough to be real and tight enough to be effective. Production values are simple and not overdone, and the sound quality and mix are right on the money. Lil' Ed & The Blues Imperials – Jump Start would be a welcome addition to any collection and is highly recommended.