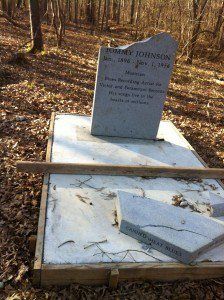 The headstone of Mississippi Delta Blues legend Tommy Johnson was destroyed Saturday, February 2nd. Located near Crystal Springs, Mississippi, the headstone was only placed last October in the cemetery where Johnson was laid to rest. For ten years, the headstone was located in the Crystal Springs Public Library during a legal dispute between Johnson's family and local landowners over allowing the Warm Springs Methodist Cemetery where Johnson rests to be publicly accessed.
On Saturday, Vandals broke the headstone that was paid for by Bonnie Raitt in 2001. Johnson, famous for his guitar mastery and stunning falsetto, was the widely influential early bluesman who was famous for such songs as "Canned Heat Blues", "Cool Drink of Water Blues", and "Big Road Blues". While having no relation to fellow delta bluesman Robert Johnson, the story of a faustian deal with the devil originated with Tommy — an event that was depicted by a fictional version of Tommy Johnson, played by blues contemporary Chris Thomas King, in 2000's O! Brother Where Art Thou. Johnson famously had a penchant for straining sterno and drinking the toxic ethanol, often called Canned Heat, as alcohol.
Johnson died of a heart attack on November 1st, 1956. While the exact date of his birth was unknown, he was believed to be roughly 60. Despite his widespread influence and popularity, the delta blues legend was without a headstone for 45 years. Only four months after it was finally placed on his grave, the stone was destroyed. According to local sources, the Copiah County Sheriff's Office has stated that they will be looking into the matter, and Johnson's headstone appears to have been deliberately targeted, as no other property was damaged.