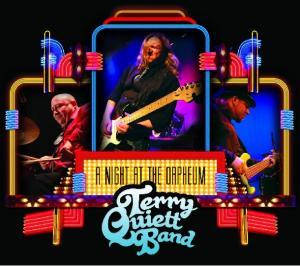 When we think about the great live albums, we often think about the great live bands that made them. The Allman Brothers Band and At Fillmore East. B.B. King's Live at the Regal. Eric Clapton's Just One Night. What makes these albums so good is the level of musicianship, the material chosen for performance, and the infectious charisma of the band. A Night At The Orpheum by the Terry Quiett Band is just such an album.
The Terry Quiett Band is Terry Quiett on guitars and vocals, Aaron Underwood on bass and vocals, and Rodney Baker on drums. As you listen to this album, one thing is immediately apparent: this band is tight! There is a very good reason for that. The band has literally logged hundreds of thousands of miles averaging over 300 shows a year. This journey has seen them sharing the stage with such talent as Robert Cray, Tab Benoit, Jonny Lang, Walter Trout, and Bugs Henderson.  Their previous album, Just My Luck having made quite a splash, they are back with A Night At The Orpheum (also produced by Jim Gaines).
Overall, the production and sound quality on this album is outstanding. Being a live album, we also get the benefit of the crowd interacting with the band, which in this case is more of a club atmosphere. There are several standout cuts on this album. "Wheelhouse" is a funky Texas style blues that is slow and steady with a great backbeat laid down by Baker and Underwood. "Caroline" is a great slow blues with some excellent playing by Quiet, and backing vocals from Underwood! The slide work on "The Horizon," with its electric dobro sound, is amazing. Bruce Springsteen's "Cover Me" is covered as a funky blues piece and Quiett delivers a mighty fine solo. "Gimmie Some" is more uptempo and has a "pop" feel.
Again, the playing throughout is stellar and very tight. At just about 70 minutes, this album is definitely time well spent. For those who have not seen this band live, this is the next best thing, and well worth a listen.