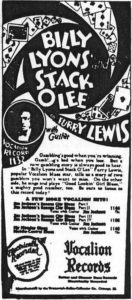 The Killer Blues Headstone Project is pleased to announce their first headstone recipients of 2013. St. Louis blues pioneer Milton "Lindberg" Sparks and folklore legend "Stagger" Lee Shelton will be honored with markers this spring.
Milton Sparks' substantial and noteworthy contribution to blues music often goes unrecognized. Along with his twin brother Aaron, the Sparks Brothers were the first artists to record popular lines such as "61 Highway – longest highway that I know", and "Every day I have the blues". The brothers were also one of the first, if not the first, to record the foundation for what we know as "Dust My Broom".  They recorded twenty four sides between 1932-1935 for labels such as Bluebird, Victor, and Decca.
Any blues enthusiast knows the story of cruel old "Stagger Lee" who shot Billy Lyons during an argument over a Stetson hat.  The song has been recorded well over 400 times in a plethora of variations and styling. Although "Stagger" Lee Shelton was not a musician, the events that transpired on that fateful Christmas Eve in 1895 made a significant historical impact on American music.
The public ceremony will take place on April 14 at 2pm at the historic Greenwood Cemetery in Hillsdale, MO. Due to overgrowth the exact locations of the burial spots of both Sparks and Shelton are unreachable. Therefore, the Killer Blues Headstone Project has partnered with the nonprofit Friends of Greenwood to create a memorial garden near the cemetery's entrance where the headstones will be placed. For information regarding the ceremony contact Aaron Pritchard at 314.775.6953 or aaronpritchard.killerblues@yahoo.com. To learn more about the Killer Blues Headstone Project's past or future endeavors please visit www.killerblues.net.