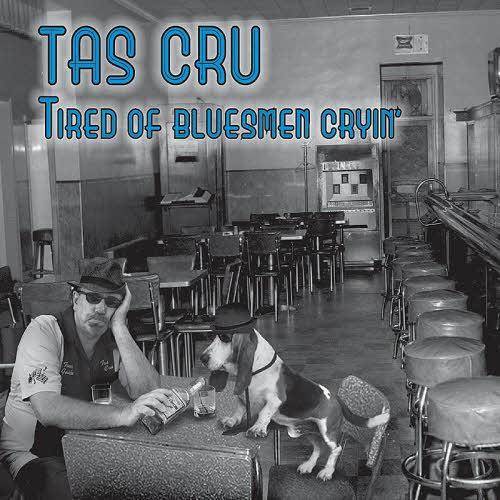 So, is Tas Cru Tired of Hearing Bluesmen Cryin'? Well, actually, no; far from it! Known in blues circles and among his peers as a "Blues Poet," Cru has a knack for playing great blues and writing quirky, humorous lyrics. His fifth release, Tired of Hearing Bluesmen Cryin' is no exception. (Cru explains the story behind the title cut in an interview with American Blues Scene.) Players on this album are: Tas Cru on guitars, vocals, and harmonica; Larry DeVivo and Joe "the claw" Goehle on bass; Andy Hearn on drums and percussion; Chip Lamson and Tony Perrino on keyboards, and Jeremy Walz on slide guitar.
There are several standout tracks on this disc. The title cut, "Tired of Hearing Bluesmen Cryin'," is a steady rolling romp with a good beat, great guitar, and a nice bass line. "One More Time" is slow blues with piano that adds another level of texture, as well as a fine vocal from Cru. "Road To My Obsession" features some passionate guitar work by Cru, and the band provides superb backing! "Every Word you Say" is a fine cut on several levels. It is at once humorous and fun as Cru tries to convince his lady that he is paying attention and hears her every word. The playing here is fabulous: nice guitar work from Cru, and once again, the rest of the band steps up. "Sure Do (want to fool around)" will evoke memories of a Leon Russell tune with Cru's vocal delivery, the easygoing tempo, vibrant piano, and tasteful acoustic guitar. "Story Time" moves along at a slow, slightly swinging pace, and the guitars are a multilayered and textured feast that you can lose yourself in.
This album is good listening on many levels. The musicians are first class and so is the playing. Sound and production quality is excellent. What really seals the deal here is that this album is just a bunch of fun to listen to!  Check it out soon.