Today we're bringing you another entry in American Blues Scene's exclusive "Brief History of a Song" series.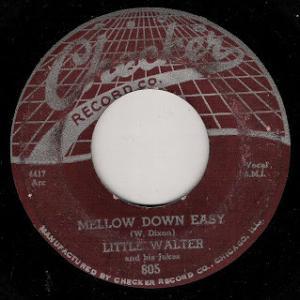 Little Walter was the landmark harmonica player with a wild reputation and a pioneering harmonica sound that was as untouchable in the 1950s as it is today. The Chess Records artist made some mighty musical waves in his all-too-brief life. In 2008, he was posthumously  inducted into the Rock and Roll Hall of Fame, and holds the distinctive honor of being the only artist to ever be inducted specifically for harmonica work. He had two number-one hits in the mid-1950s, "My Babe" and the only harmonica instrumental to ever reach Billboard #1, "Juke".
One song out of the blues giant's repertoire, however, has continued to weather the test of time to inspire and influence people decades later: Checker Records number 805, "Mellow Down Easy", written by the great Willie Dixon and recorded October 5, 1954.
Just over ten years after the track's release, the legendary Paul Butterfield Blues Band released their self-titled debut album, including "Mellow" as the final song on their A-Side. Butterfield's band, with future stars Elvin Bishop and Mike Bloomfield, included the track in their live sets, even playing it at the famed 1965 Newport Folk Festival.
John Hammond, Jr, son of one of the most influential figures in popular music and a prolific (though under-appreciated) artist in his own right, has regularly performed acoustic versions of this song live, either solo or as part of a duo.
At the turn of the century, The Black Crowes were continuing to ride high on their massive blues-based rock album, Shake Your Money Maker. In October, 1999, the band joined with one of the most famous guitarists in history, Led Zeppelin's Jimmy Page, at the Greek Theater in Griffith Park, Los Angeles. The band played covers of B.B. King, Charley Patton, Led Zeppelin, Elmore James, Muddy Waters, and of course, Little Walter's "Mellow Down Easy". The set would be released as the acclaimed two-disc, Live at the Greek the following year.
Now nearly 60 years old, the song has continued to capture the imaginations and inspiration of artists across the globe. It's been covered by many celebrated blues harmonica players such as Rod Piazza and Jason Ricci, and found it's place in many popular rock acts, including ZZ Top, Robben Ford and Little Feat. Hugh Laurie, who many best know as Dr House from the hit television show, has since began an impressive career playing blues music, and routinely works the song into his live sets with no small amount of showmanship — an act that would likely make Walter, a well known showman in his own right, proud. Though he passed away in 1968 at just 37 years old, Little Walter's music has never stopped influencing the world.
Little Walter – Mellow Down Easy

Hugh Laurie – Mellow Down Easy

The Black Crowes & Jimmy Page – Mellow Down Easy