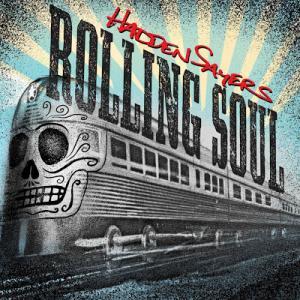 Hadden Sayers has made his success the hard way; he has earned it. He has talent and he's honed that talent playing over 200 gigs a year. He has persisted in the face of shady deals, less than honest agents, and crooked record labels. But above everything else is his love of soul, desire to succeed, and dedication to playing some seriously mean guitar.
Rolling Soul (Blue Corn Music) follows on the heels of the highly successful, BMA nominated release, Hard Dollar. It is an expressive, articulate, well crafted, well performed album. Sayer's love of soul is apparent throughout. There are so many good tracks here it is hard to just single out a few. The leadoff track, "Don't Take Your Love (out on me)" is a steady rolling, syrupy guitar toned delight! "Something Wrong In The World Tonight" harkens back to the great backing bands of Brook Benton, and the band does a great job here as Sayer lays down some smooth licks, and a smooth vocal to match. "That's What You Do" is subtle soul, nicely delivered.
"Lay Down Your Worries" is lush, vintage, sexy soul from the school of Al Green, and features a killer vocal from Ruthie Foster. "Unlucky" is a happy-go-lucky lament with spring in its step, some great piano lines, and sweet slide guitar. "Tippin' In" is an excellent swing excursion with a spot-on mix. "Insomniac Blues" is a slow, smokey, wonderful blues.
The Rolling Soul of Hadden Sayers is a luxurious ride on a soul filled blues train. Our advice? Catch this train as soon as you can!