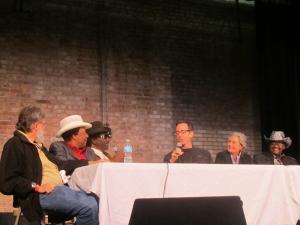 (Helena, Arkansas) – "A man can live a long time without water or food, but a man cannot get along without hope." So says blues legend Bobby Rush, one of 11 participants in the third annual Call and Response Blues Symposium beginning at noon on Saturday, October 12 at the Malco Theater, in Helena, Arkansas, a featured event at the 28th annual King Biscuit Blues Festival, the foremost showcase of authentic blues.
How do artists like Bobby Rush, Chicago blues guitarist Carl Weathersby, Beale St. veteran Blind Mississippi Morris, and Memphis producer and guitarist Brad Webb stay true to their muse and survive in the 2013 music world? Join King Biscuit's own award winning blues journalist Don Wilcock and Matt Marshall, editor of American Blues Scene, the most popular blues website in the world, as they ask the tough questions about staying in the game of pouring your heart out on blues stages around the world from Carnegie Hall to juke joints in Helena, Arkansas.
Roger Stolle, filmmaker, columnist, oft quoted authority on Delta blues and owner of Cat Head Delta Blues & Folk Art in historic Clarksdale, Mississippi hosts part two of the symposium at 1:00 p.m. with four of the most colorful Delta bluesmen carrying on the rich tradition of the fertile birthplace of America's music. Earnest "Guitar" Roy Jr., Bill "Howl-N-Madd" Perry, Robert "Dr. Feelgood" Potts, and David Malone Kimbrough Jr. are all Mississippi born and bred. Each grew up in the blues tradition advancing a legacy that includes work with such authentic traditional bluesmen as Big Jack Johnson, Frank Frost, Little Milton, Willie Dixon and Junior Kimbrough.
The third annual Call and Response, The Blues Symposium begins at noon on the third day of the 28th Annual King Biscuit Blues Festival at the Malco Theater on Cherry St. in Helena and is free to the public thanks to the support of these wonderful sponsors: The Scoular Company and Economy Drugs.
Call and Response Participants
Bobby Rush
A yearly performer at the Biscuit, Bobby Rush is known as "The King of the Chitlin Circuit." The AllMusic Guide refers to this veteran folk-funk entertainer as "among the most colorful characters n the contemporary chitlin circuit." He was a childhood friend of Elmore James, was Luther Allison's first producer and Freddie King was in his Chicago band. At 78 years old, he has recorded 259 records – some 78s, some 45s, some LPs, some CDs, some DVDs. In the 1980s when many blues artists were migrating to Chicago, he moved from Chicago back to Mississippi. Equally at home with festival and juke joint audiences, Bobby Rush likes to say he crosses over, but never crosses out.
Carl Weathersby
His first gig was with Albert King whose left-handed and upside-down playing was like watching someone run backwards. Carl is a Vietnam veteran and has worked as a Louisiana policeman and a prison guard. He brings a tough but sophisticated edge to gigs with acts like Mississippi Heat, Nora Jean Bruso and Billy Branch's Sons of the Blues. He's released seven solo CDs and has toured China with the late, great Swiss jazz band leader George Gruntz describing the experience as like standing on the edge of a worm hole ready to go into cyberspace at any moment.
Blind Mississippi Morris
A Beale St. regular for years, Morris was born in Clarksdale, Mississippi and has been blind since he was four. Named one of the 10 best harmonica players in the world by Bluzharp, he is the cousin to both Willie Dixon and Mississippi Sheiks leaders Robert and Mary Diggs. He's a 30-plus year performing veteran and has several albums including Walk with Me.
Brad Webb
Producer, guitarist, singer/songwriter Brad Webb was born in 1951 and raised in Memphis. He often plays guitar for Mississippi Morris and The Pocket Rockets and has owned his own studio since 1985 where he has captured for posterity recordings by forgotten Memphis fan favorites like Willie Foster recorded at the Airport Grocery near the airport runway in Cleveland, Mississippi or 40-year Memphis regular Fred Sanders. He has performed in England, Norway, Switzerland, Netherlands, Belgium, Greece, France, and Canada. He has played with Teenie Hodges from the Hi Rhythm Section and with Roland Robinson of the Eddie Floyd/Buddy Miles Band.
Matt Marshall
Matt Marshall is the Steve Jobs of tomorrow's blues journalism. The Editor of The American Blue Scene, the most popular blues website in the world, Matt breaks news stories whether it's a two-hour interview with Gregg Allman for whom he drove 13 hours straight to get the rock icon's view of his blues heritage or the story of an on-stage attack of Lester Chambers of the Chambers Brothers that was read by 20,000 fans in one day. He understands the relationship between contemporary culture and social networking. It's as much about Twitter and Facebook as it about the webpage and The American Blues Music website has more than 300,000 visitors a year and 80,000 fans on Facebook.
Don Wilcock co-moderator, Part One
Don Wilcock has played an active role in the King Biscuit Blues Festival for almost two decades, first as editor of King Biscuit Time Magazine and more recently as organizer and co-host of the Call and Response Symposium. Today, his articles appear regularly in The American Blues Scene, The Audiophile Voice and as a weekly columnist for two dailies in New York's Capital Region. He is the author of Buddy Guy's authorized biography Damn Right I've Got The Blues and is founder and past president of the Northeast Blues Society.
Earnest "Guitar" Roy Jr.
Earnest "Guitar" Roy Jr. was born in 1958, in Clarksdale, Mississippi. His father, guitarist Earnest Roy Sr., worked with Jackie Brenston, Ike Turner, John Lee Hooker, Wade Walton, Raymond Hill, and many of the other Clarksdale bluesmen. Earnest's father taught him bass guitar at five, and when Earnest turned eight, he began playing in his father's band, Earnest Roy & the Clarksdale Rockers, whose members included Big Jack Johnson (who he later recorded with). Through the years, he also played with Albert King, Frank Frost and others. His most recent CD is "Going Down to Clarksdale" from 2011.
Bill "Howl-N-Madd" Perry
Bill "Howl-N-Madd" Perry was born in 1947 near Abbeville, Mississippi, on land where his ancestors once worked as slaves. His father (a moonshiner and farmer) gave Bill his first guitar (won at a dice game). At 14, his family moved to Chicago where Perry wrote for musicians like Lil Johnny Taylor, Ted Taylor and Cash McCall. Through the years, he worked for Little Milton's band, Phil Chess, Willie Dixon, and Sonny Thompson. He taught his son and daughter to play music and, at times, they played as a family band. He has several CDs out and played a blues club owner in the 2009 Cuba Gooding Jr. film "Way of War."
Robert "Dr. Feelgood" Potts
Robert "Dr. Feelgood" Potts was born into a family of cotton sharecroppers near Greenwood, Mississippi, in 19?? (He's shy about his age) . He remembers his father singing in the fields. For Christmas one year, the Potts children received a "juice-filled" wax harmonica. Potts kept his, learning to play a few notes. Soon, his parents bought him a real harmonica. In 1967, he moved to Memphis to start his career in music. He auditioned at Stax Recording and Hi Records, and in 1970, he wrote and recorded his first 45 single. He has released several CDs, and his daughter, Sheba Potts-Wright, is also a singer.
David Malone Kimbrough Jr
David Malone Kimbrough Jr. was born in 1965 in Holly Springs, Mississippi. His father is Hill Country Blues legend Junior Kimbrough. Under his father's influence, David Kimbrough Jr. began singing and playing drums, bass, keyboard and guitar. He left home as a young man, lived in Chicago for a spell and eventually ended up in trouble in Mississippi. Kimbrough served several years at Parchman Penitentiary where he taught a young Mark "Mule Man" Massey to play guitar. He went on to record albums for labels like Fat Possum and Lucky 13 Records. Today, he lives in Arkansas and continues to perform.
Roger Stolle co-moderator Part Two
Roger Stolle owns Cat Head Delta Blues & Folk Art in historic Clarksdale, Mississippi. He is a Blues Music Magazine columnist, Juke Joint Festival co-founder, Hidden History of Mississippi Blues author, and co-producer of the blues music films M for Mississippi and We Juke Up in Here. He is co-creator of the blues reality show Moonshine & Mojo Hands and a past recipient of both Keeping The Blues Alive and Blues Music Awards. An authority on Delta blues and tourism, he has been quoted in publications such as The New York Times, The Economist and Travel+Leisure. His web site is www.cathead.biz.