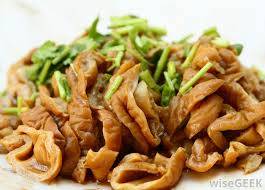 This is the latest installment in our weekly series, The Language of the Blues, in which author and rocker Debra Devi explores the meaning of a word or phrase from a blues song. Come back every week for the latest! Devi's award-winning book, The Language of the Blues: From Alcorub to ZuZu, is now available at Bluescentric.com!
Short for "chitterlings," chitlins are pieces of pig intestines. Chitlins are different from "cracklings," which are the crispy fried pieces of pigskin that are also called "pork rinds."
The word chitterling comes from Old English. It described the ruffle on a shirt, which when ironed resembled small intestines. The French word for this kind of ruffle is andouille; hence andouille sausage, made from chitlins and tripe.
In the southern American colonies, hogs were slaughtered in December. The hams and chops went to the main house, and the hog guts, ears, feet, and other leftovers were given to the slaves. After Emancipation, the practice continued, only the guts were scooped up after the slaughter and sold for a few cents a pound, feces and all (which is where we get "gutbucket"!).
Boiled chitlins are dressed with hot sauce and served with ham, turkey, macaroni and cheese, collard greens, and sweet potato pie. Although chitlins are a winter holiday tradition in many African American households, some African Americans consider chitlins slave food, and refuse to eat them.
Papa Charlie Jackson expressed his opinion in "Mama Don't You Think I Know":
Now some people say chitlins are good to eat
I'll never eat chiltlins, long as hog got feet
Chitlins are also popular in Cajun cooking, and in Mexico, where they are typically eaten in a spicy tomato soup.
Chitlin preparation is lengthy, tedious, and stinky. Today, chitlins are sold partially cleaned, but they still require a very thorough hand cleaning by the cook. According to Moo & Oink, a company that sells thoroughly cleaned chitlins for cooks who don't have time for the lengthy preparation, "Chitlins take a lot of time and effort to clean. Along with this effort comes a lot of waste as you throw away the fat and grit. When you are buying chitlins that require cleaning, be prepared to buy ten pounds of chitlins to get five pounds of chitlins to cook."
The goal of cleaning is to remove the fat from inside the chitlin. The fat side has a different color than the meaty side, so you just scrape off the fat and any dirt and grit, while repeatedly rinsing. Once separated, cleaned, and thoroughly rinsed, toss the chitlins in a pot of boiling water with a little vinegar, salt, pepper, and onions. While cooking, the chitlins will give off a strong smell. You can toss a potato or apple into the pot to absorb the odor.
Songs:
"Chitlin Con Carne"- Junior Wells (Amos Blakemore)
"Chitlins Con Carne"- Kenny Burrell (covered by Stevie Ray Vaughan)
"Lemon's Worried Blues" – "Blind" Lemon Jefferson
"Mama Don't You Think I Know?"- "Papa" Charlie Jackson
VIDEO
"Chitlin Con Carne" – Junior Wells and Buddy Guy