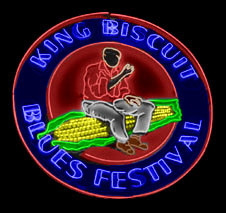 Besides being one of the oldest blues festivals in the nation (probably the world), The King Biscuit Blues Festival also consistently presents a stellar roster of performers. The primary mission of this phenomenal yearly event is to focus attention on the heritage and history of the Delta blues, and inspire people to experience the music of the Delta blues region.
This year's lineup, as always, is exceptional. Performers include Walter "Wolfman" Washington, Sonny Landreth, Marcia Ball, Robert Cray, Jaimoe's Jazz Band, James Cotton, Joe Louis Walker, Bobby Rush, Gregg Allman Band, and 2013 IBC Winner, Selwyn Birchwood.
The festival itself has a long, rich history, steeped in blues lore. Helena has, for some time, been a haven for the blues. "King Biscuit Time," is the longest running daily radio show ever. First airing on November 21st, 1941, and making its home in Helena, it grew to be so popular that the town became legendary within the Delta region. Sonny Boy Williamson II and Robert Lockwood Jr. played in the studio band, along with Pinetop Perkins and James Peck Curtis. At the time, this was the only radio station that would play music by African American musicians. The show would inspire B.B. King, James Cotton, Ike Turner, Robert Night Hawk and many, many more. It has been said that Muddy Waters and B.B. King came home from the cotton fields to listen to the program. The program is hosted today by "Sunshine" Sunny Payne, who has played that role since 1952 — over fifty years.
The town was filled with music, and that era, the 1940's and 1950's, has been remembered fondly by many, including the late Pinetop Perkins. Later on in the 1980's, the town began to fall on hard times as businesses closed, and work became harder to find. Helena realized that it had to do something to revitalize its community or it would die a slow death. The group that later became the Sonny Boy Blues Society was the core of the first King Biscuit Blues Festival planning committee. Because Helena was so rich in the heritage and history of the blues, it sought to regain its rightful place as a center for performance of, and education in the Delta blues. In doing so, the town hoped to have locals who had left return, as well as promote tourism to reinvigorate the area.
In 1986, the Main St Helena Program held a fundraiser and decided to have a blues festival. When it came to a name for the newly minted festival, it was decided that it would be named after the long running radio program, hence, The King Biscuit Blues Festival. In 1992, Munnie Jordan came onboard as the Executive Director and soon thereafter approached the Splash Casino for $50,000, and to everyone's surprise, she got it. Having secured these funds, Munnie and the sponsors could now concentrate their efforts on building the festival into something bigger and better. "Our wish is to be as pure Delta Blues as we can possibly be," says Jordan at the Biscuit office on a hot September day. "I think that's what has really been the niche that has made King Biscuit so authentic." By the time Jordan left in 1997, the festival was doing well. Thereafter a series of events including the sale of festival ownership, would cause the loss of naming rights, and later a downward spiral into financial disarray. In 2008, the Sonny Boy Blues Society who were managing the festival, asked Jordan if she would return and help them resolve the problems.
One thing that Jordan and her supporters did was to get the King Biscuit name back. "In 2010, which was our 25th anniversary, we worked the whole year trying to find out who in the world really did own the name. We were rejected and rejected, and everybody gave up. Here in this office, we said, 'No. We're not giving up!' So, we found Bill Sagan (CEO) at Wolfgang's Vault, we got him on the phone, and he said 'Absolutely. You can pay a fee each year for this name, and you may use this name. I own it.' So, right before B.B. King came on the stage, I went up there and said 'Who wants the Biscuit back?' Everybody just went crazy. We dropped a banner that said 'The Biscuit Is Back!' and you would have thought we had an earthquake. The people were shouting and jumping; it was really exciting."
This festival is not just a festival. For starters, there are four different stages, three of which are free to the blues loving public. Even at that, a $45 ticket gets the blues lover three days admittance to the festival, which is a smorgasbord of performers. In addition to the stages, there is a BBQ Cook-Off, as well as the King Biscuit Blues Festival Kenneth Freemyer Memorial 5K/10K Run. Of course there is a VIP Party and Tent, complete with food and drinks.
A unique and interesting treat for festival goers is the Call and Response Symposium. This event will be presented in two parts. The first is a discussion with several of the festival's performers on various aspects of their careers & blues in general. This will be hosted by award winning blues journalist Don Wilcock, and American Blues Scene Magazine Editor Matt Marshall. Part Two will be a discussion with several of the festival's performers, hosted by Roger Stolle, filmmaker, columnist, and owner of Cat Head Delta Blues and Folk Art in Clarksdale, Mississippi. Jordan adds "And Saturday night, right before Gregg Allman comes on, we've got a huge fireworks display going on, on the levy. Those are the little extra fun things that go on."
The King Biscuit Blues Festival is but one of the festivals that anchor the Bridging The Blues series of events that take place during the week leading up to Biscuit. Bridging The Blues seeks to "maximize the opportunities for visitors to discover the richness of the blues tradition in the Mississippi Delta region." The series of scheduled events that make up Bridging The Blues is a pilgrimage that any blues devotee should take part in. While in the area, blues fans are also encouraged to follow the Mississippi Blues Trail, consisting of a series of approximately 170 markers celebrating people, places, and points of historical interest directly relevant to the history and development of the region's music. Jordan is excited as she adds, "We all work together on this. We hope that will help this whole (area). The Delta is pretty economically devastated, I'll tell you that. So, tourism is a wonderful thing for all our economies, here, up and down (the Blues Corridor)."
"We (the KBBF) have aspirations for the future, even creating a foundation. Then we could have our money grow and we could focus on some things we want to do. Helping older blues performers that don't have any money. Like now, we're just taking our profit, if we have any, and putting it back into the next year's festival. Also, building our staff. We didn't have a staff until last year. We just had me, and it's too overwhelming, so we're creating a sustainable staff. Well last year it poured down rain for two days. So a festival is devastated when that happens. We lost $15K on ticket sales on one day. So, you have to have that rainy day fund there, because how do you know it's not gonna rain it out again? Basically, we haven't gotten to the point where we can say we're gonna take our money and put it towards, or give it to something. Hopefully, someday we can get to that.
"We have started a Blues In The Schools Program last year. That has been a wonderful thing. We bought $7000 worth of instruments, and we have Blues In The Schools every other Saturday, twice a month during school months, to teach these children about the blues; how to play an instrument, and the history. So, we've invested in that too. We have three instructors; keyboard, drummer, and guitar, and of course they're all blues performers, and they talk to them about all that. It's a very good program. In fact, they (the children) open up the performance at 11:00 on the Bit-O-Blues Stage. They have a little band that plays the blues."
So, be a part of this year's King Biscuit Blues Festival and other regional events. Show your love for the blues, and help the area rebuild economically so Delta blues continues to be remembered, enjoyed, and its treasures and traditions are passed on to a new generation to cherish and rejoice in.