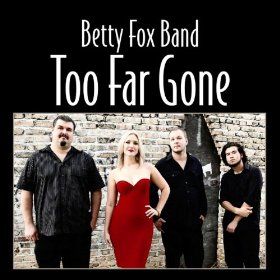 Betty Fox is a staple in the Central Florida area, always bringing hearty performances to the venues and festivals she plays. She always brings it, and lets her music do the talking. Her love and respect for the gospel and soul she grew up on is evident every time she is on stage. She will move you.
Too Far Gone by The Betty Fox Band showcases her talents, and the stellar band as well. Personnel on this album are Betty Fox – vocals, Josh Nelms – guitars, Matt Walker – bass, Aaron Fowler – drums, and Mark Cunningham on keyboards. Production values are good, the mix is spot on, and the overall sound is full.
This album is chock full of pleasant surprises! From start to finish, it is a delicious mix of blues and soul. Standout cuts include "Down," with it's slow, smokey blues feel, and Beth Hart like vocal; just a sexy song all around. "Goodbye" has a slight Rhumba feel with another great vocal from Fox. "No Other Man" is delightfully slow, with a vague swing feel, and subtle blues riff. Another superior blues flavored cut is "Maybe Next Lifetime," with it's sparse atmospherics, and superb, understated playing from the band. "Story Not To Tell" is a funky blues, with a light Hendrix edge to it, and it is very effective. "Satisfied" is a Texas flavored blues reminiscent of the Fabulous Thunderbirds.
Fox's singing is a cross between Beth Hart and Etta James, with a touch of Marion James thrown in. The band is impressive throughout. Their playing is solid and understated, but you never get the feeling they are laying back. This album is a fine mix of Texas soul, North Side soul, gospel, and blues that all come together brilliantly. Take this for a spin soon.