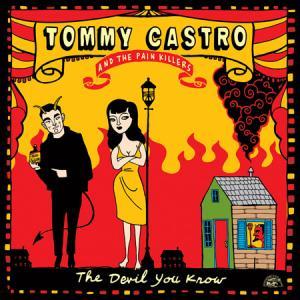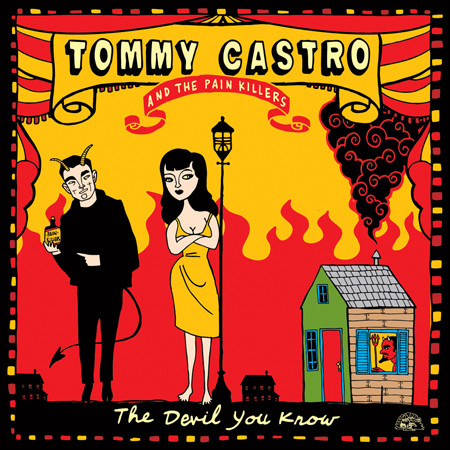 Guitars. Lots of them. But of course it's a Tommy Castro album, so you know you'll be getting a release that will be leaning heavily on the guitar, and this one stays true to the formula that has served Tommy well.
This one's a real cooker, so turn the player up to 11 before putting the album in. If you put this one in the CD player while letting the car warm up, you won't be needing an ice scraper — or a heater for that matter. The Devil You Know contains some of the tastiest guitar work you're going to find this winter. And once you read the list of players that lend their talents to this great piece of work, you'll know why.
The album wastes no time and gets right down to business and lead off with the fiery title track. It's a great setup for the following 12 tunes on this release on Alligator Records, with a street date of January 21, 2014. Trying to pick a favorite on here will be extremely difficult — there isn't a weak track in the bunch. Painkiller members Randy McDonald, Byron Cage and James Pace provide the steady punch throughout, complimenting Castro well. This band is extremely tight and they fit well together.
Castro once again proves that he is in the top tier of players on the scene today and shows why he is one the most popular blues and roots music artists out there. This CD is full of blues and soul with just enough rock thrown in to make it really cook! We dare ya to try and not tap your foot while Devil is playing. It's 13 songs flow nicely when the album is played front to back. Included on the release is a very catchy version of the Wet Willie classic "Keep On Smilin" with Mike Duke playing superb piano and belting out the vocals. Mark Karan accompanies The Painkillers on some southern rock guitar for this track as well, very tastefully.
The guest list on Tommy's latest is packed with familiar names including Joe Bonamassa, who throws in some serious guitar runs on "I'm Tired". Samantha Fish lends her fantastic vocal talents to the upbeat "Medicine Woman". Tab Benoit is featured on guitars and vocals on "When I Cross The Mississippi". Marcia Ball helps out Tommy on "Mojo Hannah" and The Holmes Brothers deliver some very solid background vocals on the wickedly filthy "Two Steps Forward", which also features some great harp work by Magic Dick.
We highly recommend getting The Devil You Know. Play it loud and often.