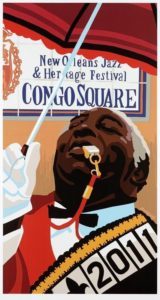 The New Orleans Jazz and Heritage Festival, lovingly known across the world as Jazzfest, has released their storied lineup for the festival's 45th anniversary. Headliners include Bruce Springsteen and the E Street Band, Arcade Fire, Eric Clapton, Santana, Phish, Robert Plant and the Sensational Space Shifters, Christina Aguilera, John Fogerty, Tey Songz, and more. Blues acts include Joe Louis Walker, Eric Lindell, Little Freddie King Blues Band, Chris Thomas King, Jon Cleary, Sonny Landreth, Royal Southern Brotherhood, and many more.
Jazz Fest will be taking place over two weekends, April 25-April 27 and May 1-May 4 at the Fair Grounds Race Course.
Advanced single-day tickets for Jazz Fest are $50 through Jan. 31, when the price will be $55. The gate price ticket will be $70. Children's tickets (ages 2-10) are $5 and are available at the gate only.
Single-day tickets to Jazz Fest are on sale by specific weekend, with each ticket valid for a single day's attendance. Tickets are available at www.nojazzfest.com or by calling (800) 745-3000. Tickets can be purchased in-person at the New Orleans Arena Box Office.
FRIDAY, APRIL 25
• Santana
• The Avett Brothers
• Public Enemy
• Jason Isbell
• Rubén Blades & Roberto Delgado Orchestra
• Laura Mvula
• Irvin Mayfield & the New Orleans Jazz Orchestra
• Gregory Porter
• The Infamous Stringdusters
• Eric Lindell and the Sunliners, feat. Anson Funderburgh
• Joe Louis Walker
• Wayne Toups & ZyDeCajun
• Afoxé Omô Nilê Ogunjá of Pernambuco-Brazil
• Steve Riley & the Mamou Playboys
• Dee-1
• Nathan & the Zydeco Cha Chas
• Shamarr Allen & the Underdawgs
• Honey Island Swamp Band
• Little Freddie King Blues Band
• Brass-A-Holics
• Leah Chase
• Geno Delafose & French Rockin' Boogie
• Sasha Masakowski
• Lisa Knowles & the Brown Singers
• BaianaSystem of Bahia-Brazil
• Chris Thomas King
• Tim Laughlin
• Tricia Boutté & International Friends
• Gal Holiday and the Honky Tonk Revue
• Lil' Buck Sinegal Blues Band
• Shades of Praise
• Curtis Pierre & Escola de Samba Casa Samba
• Ginga Mundo Capoeira of Bahia-Brazil with special guests
• Connie and Dwight Fitch with St. Raymond & St. Leo the Great Gospel Choir
• Rotary Downs
• Javier Gutierrez & Vivaz!
• Bamboula 2000
• J. Monque'D Blues Band
• Alexey Marti & Urban Minds
• Jimmy Breaux & Friends
• Aurora Nealand & The Royal Roses
• Brice Miller & Mahogany Brass Band
• Vox and the Hound
• Jaryd Lane & The Parish
• Julio y Cesar Band
• Jamil Sharif
• Betty Winn & One A-Chord
• Stoney Creek Drum and Dance
• Semolian Warriors Mardi Gras Indians
• Comanche Hunters Mardi Gras Indians
• Kirk Joseph's Backyard Groove
• Baritone Bliss
• Maryland Jazz Band of Cologne – Germany
• Chris Clifton & His All-Stars
• Sweet Olive String Band
• The Real Untouchable Brass Band
• Zulu Social Aid & Pleasure Club
• Big Nine Social Aid & Pleasure Club
• David & Roselyn
• The Showers
• Tommy Singleton
• Young Audiences Brass Band Throwdown
• Black Mohawk Mardi Gras Indians
• Black Foot Hunters Mardi Gras Indians
• The RAMS
• The Sensational Chosen Voices
• Keep N It Real Social Aid & Pleasure Club
• We Are One Social Aid & Pleasure Club
• City of Love Music & Worship Arts Choir
• Xavier University Jazz Ensemble
• Wild Apaches Mardi Gras Indians
• Geronimo Hunters Mardi Gras Indians
• Lake Forest Charter Jazz Band
• GrayHawk presents Native Lore and Tales
• Miss Claudia's Terrific Traveling Troubadours
• KCCA Drama Troupe
SATURDAY, APRIL 26
• Phish
• Robin Thicke
• Robert Plant and the Sensational Space Shifters
• Boz Scaggs
• Keb' Mo'
• Anders Osborne
• The Mavericks
• Kermit Ruffins & the Barbecue Swingers
• Branford Marsalis Quartet
• Jon Cleary
• Davell Crawford
• Big Freedia
• Sonny Landreth
• John Mooney & Bluesiana
• Zachary Richard
• Afoxé Omô Nilê Ogunjá of Pernambuco-Brazil
• Jeremy Davenport
• Royal Southern Brotherhood
• Terrance Simien & the Zydeco Experience
• Bob Wilber and the Crescent City Cats
• Treme Brass Band
• Bobby Jones & Nashville Super Choir
• Creole String Beans
• Raw Oyster Cult
• Ironing Board Sam
• Los Hombres Calientes
• The Boutté Family Gospel
• James Rivers Movement
• René Marie – With Love to Eartha Kitt
• Kristin Diable & The City
• Forroteria
• Kim Carson
• Jeffery Broussard & the Creole Cowboys
• BaianaSystem of Bahia-Brazil
• Tin Men
• New Orleans Klezmer Allstars
• New Wave Brass Band
• Fi Yi Yi & the Mandingo Warriors
• Don Vappie & the Creole Jazz Serenaders
• Guitar Slim, Jr.
• DUKES of Dixieland
• Ginga Mundo Capoeira of Bahia-Brazil with special guests
• Dumaine Gang Social Aid & Pleasure Club
• Divine Ladies Social Aid & Pleasure Club
• Family Ties Social Aid & Pleasure Club
• Riccardo Crespo & Sol Brasil
• Negras Quilombolas
• Smitty Dee's Brass Band
• 101 Runners
• Walter Cook & Creole Wild West Mardi Gras Indians
• Tommy Sancton's New Orleans Legacy Band
• The Electrifying Crown Seekers
• Sarah Jayde & the Sharecroppers
• Shotgun Jazz Band
• Geoff Clapp Quintet
• M. Roger Holland, II
• Nine Times Men Social Aid & Pleasure Club
• Single Men and Single Ladies Social Aid & Pleasure Clubs
• Sean Johnson & The Wild Lotus Band
• Stoney Creek Drum and Dance
• Washitaw Nation Mardi Gras Indians
• Wild Mohicans Mardi Gras Indians
• NOCCA Jazz Ensemble
• Watson Memorial Teaching Ministries Choir
• Uptown Music Theater
• Archdiocese of New Orleans Gospel Choir
• Secondline Jammers Social Aid & Pleasure Club
• Men Buckjumpers Social Aid & Pleasure Club
• Golden Comanche Mardi Gras Indians
• Seminoles Mardi Gras Indians
• Pastor Jai Reed
• Rose Anne St. Romain
• The RRAAMS
• The Wimberly Family Gospel Singers
• Puppet Arts Theatre
• NORDC Crescent City Lights Youth Theater
SUNDAY, APRIL 27
• Eric Clapton
• Vampire Weekend
• Charlie Wilson
• Irma Thomas
• North Mississippi Allstars
• John Hiatt
• Tab Benoit
• Rebirth Brass Band
• Sixto Rodriguez
• Rachelle Ferrell
• Preservation Hall Jazz Band
• Galactic
• John Boutté
• Bombino
• The Rance Allen Group
• Bonerama
• Rockin' Dopsie, Jr. & the Zydeco Twisters
• Chocolate Milk
• Ms. Ruby Wilson's Tribute to Bessie Smith
• Meschiya Lake & the Little Big Horns
• Royal Teeth
• C.J. Chenier & the Red Hot Louisiana Band
• Dr. Michael White & the Original Liberty Jazz Band with Thais Clark
• Astral Project
• Hot 8 Brass Band
• Big Chief Monk Boudreaux & the Golden Eagles
• Delfeayo Marsalis & the Uptown Jazz Orchestra
• The Jones Sisters
• John Michael Rouchell
• Afoxé Omô Nilê Ogunjá of Pernambuco-Brazil
• Burnell Taylor
• Jambalaya Cajun Band with special guest D.L. Menard
• Gerald French & the Original Tuxedo Jazz Band
• Lois Dejean "Queen of New Orleans Gospel"
• Jo "Cool" Davis feat. Lady BJ and Barbara Shorts
• Val & Love Alive Mass Choir
• Keith Frank & the Soileau Zydeco Band
• Jim McCormick with Beatinpath
• Rising Dragon Lion Dance Team
• Leo Jackson & the Melody Clouds
• Reggie Hall & the Twilighters feat. Lady Bee
• Chris Smither
• Henry Gray
• Khari Allen Lee & the New Creative Collection
• Ninth Ward Hunters Mardi Gras Indians
• Ninth Ward Navajo Mardi Gras Indians
• Young Pinstripe Brass Band
• Forroteria
• Untouchables Social Aid & Pleasure Club
• Furious Five Social Aid & Pleasure Club
• Big Steppers Social Aid & Pleasure Club
• New Orleans Swamp Donkeys Traditional Jass Band
• Lars Edegran & the New Orleans Ragtime Orchestra
• New Orleans Spiritualettes
• Dirty Bourbon River Show
• Ginga Mundo Capoeira of Bahia-Brazil with special guests
• Stoney Creek Drum and Dance
• Golden Star Hunters Mardi Gras Indians
• Cedric Watson & Bijou Creole
• The New Orleans Guitar Quartet feat. Jimmy Robinson, John Rankin, Cranston Clements, and Phil deGruy
• LosOtros
• Ron Hotstream & the F-Holes
• Paulin Brothers Brass Band
• UNO Jazz Allstars
• Young Guardians of the Flame
• DJ Captain Charles
• E'dana & Divinely Destin
• Young Men Olympia Aid Social Aid & Pleasure Club
• New Look Social Aid & Pleasure Club
• First Division Social Aid & Pleasure Club
• Uptown Swingers Social Aid & Pleasure Club
• Tornado Brass Band
• Monogram Hunters Mardi Gras Indians
• Black Eagles Mardi Gras Indians
• Shawee Mardi Gras Indians
• Limitless
• Craig Adams & Higher Dimensions of Praise
• Grey Seal Puppets
• Kai Knight's Silhouette Dance Ensemble
THURSDAY, MAY 1
• The String Cheese Incident
• Lyle Lovett
• Solange
• Marcia Ball
• Bernard Allison Group
• Buckwheat Zydeco
• Dr. Lonnie Smith Trio
• Sleepy Man Banjo Boys
• Donald Harrison
• The Soul Rebels
• Greensky Bluegrass
• Spencer Taylor & the Highway QC's
• New Orleans Suspects
• A Tribe Called Red
• Luther Kent & Trickbag
• Roots of Music Marching Crusaders
• Tizumba & Tambor Mineiro of Minas Gerais-Brazil
• Nigel Hall
• Jonathon Boogie Long
• The New Orleans Bingo! Show
• BeauSoleil avec Michael Doucet
• Rosie Ledet & the Zydeco Playboys
• Stanton Moore Trio
• Marlon Jordan
• Yvette Landry Band
• Max Baca & Los TexManiacs
• Banu Gibson with special guests The Pfister Sisters
• The Ronnie Kole Septet
• Philip Manuel swings the Beatles
• Johnny Sansone
• Lil' Nathan & the Zydeco Big Timers
• Original Dixieland Jazz Band
• Anaïs St. John
• New Orleans Nightcrawlers
• Truth Universal + DJ E.F. Cuttin'
• Kenny Bill Stinson & the ARK-LA-Mystics
• Erica Falls with Larry Sieberth
• Louisiana Repertory Jazz Ensemble
• Bill Summers & Jazalsa
• Josh Kagler and HPC
• Mariachi Jalisco
• Forgotten Souls Brass Band
• Curtis Pierre & Escola de Samba Casa Samba
• Kumbuka African Drum & Dance Collective
• Colin Lake
• Ginga Mundo Capoeira of Bahia-Brazil with special guests
• Chegadão
• Flow Tribe
• La Tran-K Band
• Connie Jones & the Crescent City Jazz Band
• Smithfield Fair
• Scotty Hill's French Market Jazz Band
• Young Seminole Hunters Mardi Gras Indians
• VIP Ladies Social Aid & Pleasure Club
• Men of Class Social Aid & Pleasure Club
• Baby Boyz Brass Band
• Native Nations Intertribal
• McDonogh #35 High School Gospel Choir
• Lil Bird Lady & Young Genius
• Delgado Community College Jazz Band
• Lyle Henderson & Emmanu-EL
• Cheyenne Mardi Gras Indians
• 7th Ward Creole Hunters Mardi Gras Indians
• Donnie Bolden, Jr. & Spirit of Elijah
• Sons of Jazz Brass Band
• Revolution Social Aid & Pleasure Club
• Ladies of Unity Social Aid & Pleasure Club
• Loyola University Jazz Band
• KID smART Student Showcase
• Kalpana the Storyteller
• The ISL Circus Arts Kids
• Landry Walker Charter High School Gospel Choir
• Eleanor McMain Singing Mustangs
• Dwione Thomas & the Helen Cox High School Choir
• RSD Talented in Theater
• St. Michael Special School Bell & Vocal Choir
FRIDAY, MAY 2
• Christina Aguilera
• Chaka Khan
• Alabama Shakes
• Pharoah Sanders
• Walter "Wolfman" Washington & the Roadmasters
• Charles Bradley & his Extraordinaires
• Amanda Shaw & the Cute Guys
• Alejandro Escovedo & The Sensitive Boys
• Johnnyswim
• The Gospel Soul of Irma Thomas
• New Orleans Classic R&B Divas feat. The Dixie Cups, Wanda Rouzan, and Jean Knight
• Cowboy Mouth
• Os Negões of Bahia-Brazil
• Theresa Andersson
• Hurray for the Riff Raff
• Nicholas Payton XXX
• Lost Bayou Ramblers
• Mia Borders
• DJ Soul Sister
• The Iguanas
• New Birth Brass Band
• Charmaine Neville Band
• Stephanie Jordan Big Band
• Eden Brent Band
• Andrew Duhon
• Sunpie & the Louisiana Sunspots
• Woodshed: Vibes feat. Jason Marsalis and Chase Jordan
• Warren Storm – Willie Tee & Cypress Band with special guest T.K. Hulin
• The Honorable South
• The Wãve
• Govenor Reiss
• Brother Tyrone & the Mindbenders
• John Mahoney Big Band
• Cardinal Sons
• Pinstripe Brass Band
• White Cloud Hunters Mardi Gras Indians
• Tom McDermott & Friends
• Collage 3
• The Blues Masters feat. "Big Al" Carson
• Buddy Bolden Revisited
• George French & the New Orleans Storyville Jazz Band
• Patrice Fisher & Arpa with guests from Guatemala
• Tizumba & Tambor Mineiro of Minas Gerais-Brazil
• The Heavenly Melodies Gospel Singers of New Orleans
• Jermaine Hawkins & The Harvey Spirituals
• Highsteppers Brass Band
• Clive Wilson's New Orleans Serenaders with guest Butch Thompson
• "Kid" Simmons' Local International Allstars
• Topsy Chapman & Solid Harmony
• Ginga Mundo Capoeira of Bahia-Brazil with special guests
• Redhawk Hunters Mardi Gras Indians
• Micaela y Fiesta Flamenca
• Native Nations Intertribal
• Panorama Jazz Band
• NOLA Mix Youth DJs
• 21st Century Brass Band
• Scene Boosters Social Aid & Pleasure Club
• Lady & Men Rollers Social Aid & Pleasure Clubs
• Ivoire Spectacle feat. Seguenon Kone
• The Northwestern University Jazz Ensemble
• Milton Vanicor
• Mark Braud's New Orleans Jazz Giants
• New Orleans Indian Rhythm Section
• Young Magnolias Mardi Gras Indians
• The Gloryoskis!
• Bishop Sean T. Elder & the Mount Hermon Baptist Church Mass Choir
• Harriet Tubman Charter School Choir
• Israel Martin & G.U.P.
• Gospel Inspirations of Boutte
• Adella Adella the Storyteller
• Golden Sioux Mardi Gras Indians
• Young Cherokee Mardi Gras Indians
• Pastor Terry Gullage & the Greater Mt. Calvary Voices of Redemption
• Original Four and Original Big Seven Social Aid & Pleasure Clubs
• Young Audiences Performing Arts Showcase
SATURDAY, MAY 3
• Bruce Springsteen and the E Street Band
• Trey Songz
• Foster the People
• Al Jarreau
• Allen Toussaint
• Mary Mary
• Johnny Winter
• The Head and the Heart
• Better Than Ezra
• The Revivalists
• Imagination Movers
• Roy Rogers & the Delta Rhythm Kings
• Ellis Marsalis
• Jon Batiste and Stay Human
• Dwayne Dopsie & the Zydeco Hellraisers
• Marc Broussard
• Voice of the Wetlands Allstars
• PJ Morton
• Butler, Bernstein & The Hot 9
• Lillian Boutté & New Orleans Gumbozaire
• Savoy Family Cajun Band
• Pine Leaf Boys: Louisiana Music
• Lionel Ferbos & the Palm Court Jazz Band
• Os Negões of Bahia-Brazil
• Alexis & the Samurai
• Tommy Malone
• Germaine Bazzle
• Midnite Disturbers
• Joe Krown Trio feat. Walter "Wolfman" Washington and Russell Batiste, Jr.
• TBC Brass Band
• Fredy Omar con su Banda
• Spencer Bohren & the Whippersnappers
• Corey Ledet & his Zydeco Band
• Andre Thierry & Zydeco Magic
• Young Tuxedo Brass Band
• Orange Kellin's New Orleans Deluxe Orchestra
• Ed Volker's Trio Mollusc
• Paul Sanchez
• Micah McKee & Little Maker
• The New Orleans Hip Hop Experience feat. Partners-N-Crime, 3D Natee, Keedy Black, DJ Mike Swift, T – Ray the Violinist, and Dobama
• Doreen's Jazz New Orleans
• Voices of Peter Claver
• Original Pinettes Brass Band
• Bari Koral Family Rock Band
• Rumba Buena
• Wendell Brunious
• First Emanuel Baptist Church Mass Choir
• Curtis Pierre & Samba Kids
• Nick Sanders Trio
• Helen Gillet
• Cha Wa
• Ginga Mundo Capoeira of Bahia-Brazil with special guests
• Kinfolk Brass Band
• Undefeated Divas and Gents Social Aid & Pleasure Clubs
• Original Pigeon Town Steppers Social Aid & Pleasure Club
• New Generation Social Aid & Pleasure Club
• Tonia Scott & the Anointed Voices
• Young Hunters Mardi Gras Indians
• SUBR Jazzy Jags
• Tyronne Foster & the Arc Singers
• Stephen Foster's Foster Family Program
• Jonté Landrum Thomas
• Big Chief Thunder & the Cherokee Hunters Mardi Gras Indians
• Wild Red Flames Mardi Gras Indians
• Free Agents Brass Band
• Westbank Steppers Social Aid & Pleasure Club
• Nine Times Ladies Social Aid & Pleasure Club
• The Valley of Silent Men Social Aid & Pleasure Club
• Native Nations Intertribal
• Audrey Ferguson and The Voices of Distinction
• Mohawk Hunters Mardi Gras Indians
• Big Chief Trouble & Trouble Nation Mardi Gras Indians
• Sundays in Congo Square
• Lady Jetsetters Social Aid & Pleasure Club
• Dynamic Smooth Gospel Singers of Slidell
• The Bester Singers
• Ashé Cultural Arts Center Kuumba Institute
• Hobgoblin Hill Puppets
SUNDAY, MAY 4
• Arcade Fire
• Trombone Shorty & Orleans Avenue
• John Fogerty
• Bobby Womack
• Delbert McClinton
• Chick Corea & the Vigil
• Aaron Neville
• the Radiators
• Ivan Neville's Dumpstaphunk with special guest Art Neville
• Maze feat. Frankie Beverly
• The Dirty Dozen Brass Band
• The Terence Blanchard Group
• Robert Earl Keen
• Pres Hall Brass
• Big Sam's Funky Nation
• George Porter, Jr. & the Runnin' Pardners
• Tucka
• Glen David Andrews
• Chubby Carrier & the Bayou Swamp Band
• Deacon John
• James Andrews & the Crescent City Allstars
• Luke Winslow-King
• Storyville Stompers Brass Band
• Zion Harmonizers
• Bobby Lounge feat. Athena
• Blodie's Jazz Jam
• Johnny Sketch and the Dirty Notes
• Bobby Cure & the Summertime Blues with special guests Robert Parker, Al "Carnival Time" Johnson, and Jo "Cool" Davis
• Los Po-Boy-Citos
• Ginga Mundo Capoeira of Bahia-Brazil with special guests
• Ernie Vincent & the Top Notes
• Bruce Daigrepont Cajun Band
• Feufollet
• New Orleans Cottonmouth Kings
• Greg Stafford's Jazz Hounds
• Stooges Brass Band
• Big Chief Bo Dollis & the Wild Magnolias
• The Deslondes
• Roddie Romero & the Hub City All Stars
• Jesse McBride presents the Next Generation
• The Mulligan Brothers
• Joe Hall & the Cane Cutters
• Big Chief Juan Pardo and Jockimo's groove
• Os Negões of Bahia-Brazil
• Leroy Jones & New Orleans' Finest
• Morning Star Missionary Baptist Church Mass Choir
• New Leviathan Oriental Fox-Trot Orchestra
• Calvin Johnson
• Johnette Downing and Scott Billington
• Wild Tchoupitoulas Mardi Gras Indians
• Black Feathers Mardi Gras Indians
• Carrollton Hunters Mardi Gras Indians
• Franklin Avenue Music Ministry
• The Rocks of Harmony
• Harmonouche
• Pocket Aces Brass Band
• Heritage School of Music Band
• The Sammy Rimington International Band
• Native Nations Intertribal
• Huval-Fuselier Cajun Band
• Ninevah Baptist Church Mass Choir
• OperaCréole
• Young Fellaz Brass Band
• Original Lady Buckjumpers Social Aid & Pleasure Club
• Prince of Wales Social Aid & Pleasure Club
• Cynthia Girtley "New Orleans Gospel Diva"
• The Blues Project
• Culu Children's Traditional African Dance Company with Stilt Walkers
• Kim Che're
• Buffalo Hunters Mardi Gras Indians
• Apache Hunters Mardi Gras Indians
• Magical Moonshine Theatre
• Ole & Nu Style Fellas Social Aid & Pleasure Club
• Original C.T.C. Steppers Social Aid & Pleasure Club
• Versailles Lion Dance Team