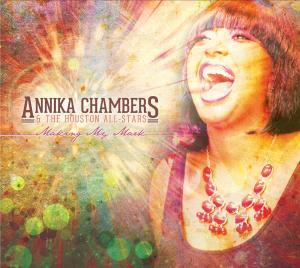 Annika Chambers has made her mark all around Houston since leaving the Army after seven-plus years and several deployments. Although she sang in church in her youth, a talent contest on her Army base in Kosovo rekindled the interest, and a guitar player who saw her performance sparked her journey in the blues.
Making My Mark on Montrose Records is Annika Chambers' debut. The deep R&B /Soul style suits the throaty sensuality in her voice, as well as her wide range and dynamic delivery. She is a confident singer and adeptly handles a variety of styles. Larry Fulcher, Grammy winner and bassist for Phantom Blues Band served as producer and arranger for the album. The disc is credited to Annika Chambers & The Houston Allstars, featuring Taj Mahal band alumni plus several Grammy winners and nominees who provide a top notch kickoff for a burgeoning talent like Annika Chambers.
"Move" kicks off the disc with some slinky guitar and they play it so funky even Buddy Guy can smell it. Innuendo is nothing new to Blues and "Barnyard Blues" and "Lick 'Er" keep the tradition alive. "Barnyard Blues" could seem tacky and cliché but Annika sings with such conviction, you believe "all the hens get quiet when the cock comes around." A sprightly shuffle and taught horn arrangement makes this farmland misadventure fun and entertaining. From impassioned ballads "Jealous Kind" and "Down South" to the punchy "Trust Me" and uplifting "Love's Sweet Sensation," Making My Mark is lively and charming.