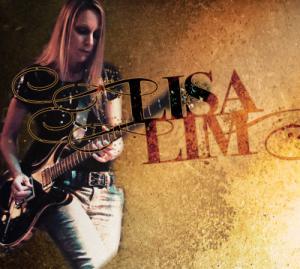 Each month American Blues Scene will be picking a blues or roots based band from Reverbnation for an interview.
This month we bring to you Lisa Lim. This female blues rockin' versatile axe-slinger has been touring, performing solo, in duos, and with her various bands over the past two decades. Her blazing lead, slide and rhythmic guitar chops leave both fans and critics breathless and longing for more.
Lisa is also a respected music educator who serves as a faculty member at National Guitar Workshop and stays in high demand throughout the mid-Atlantic region offering private and group lessons, and performance seminars. She was nice enough to spend some time answering a few questions about what makes her tick as a musician,  about music and the blues in general.
This female blues rockin' versatile axe slinger has been touring, performing solo, in duos, and with her various bands over the past two decades. Her blazing lead, slide and rhythmic guitar chops leave both fans and critics breathless. – See more at: http://www.lisalimmusic.com/bio/#sthash.g8nlrm2M.dpuf
This female blues rockin' versatile axe slinger has been touring, performing solo, in duos, and with her various bands over the past two decades. Her blazing lead, slide and rhythmic guitar chops leave both fans and critics breathless. – See more at: http://www.lisalimmusic.com/bio/#sthash.g8nlrm2M.dpuf
How important has Reverbnation been for you?
I've gotten a lot of great exposure using Reverbnation. I've found it to be a great tool for sharing my performance dates, info and latest updates with all of my social networks. It also has helped me in connecting with musicians to network with and I have found some cool performance opportunities as well.
You are a very versatile  player and have a filthy blues-rock sound, what's your gear set-up?
Thank you! Yes, I am drawing from many influences that are continuing to fuel and influence my overall sound. I am endorsed with Paul Reed Smith Guitars. Most performances you will likely see me with my Custom 24 and my Custom 22 guitars. The PRS Custom 24 has a ten top in fire red burst. Tap coil, humbuckers and a 5 way pickup selector blade. It's a bit brighter overall in sound and a lighter body. It's extremely versatile offering such a broad range, expanding from the warmth of a LP to the bite of a tele or strat. My PRS Custom 22 also has tap coil with a 3 way toggle selector. It has a bit more depth tonally. The body is a bit heavier. I use this a lot for Drop D tuning and open tunings. The tremolo on each guitar is super user friendly. Both guitars are amazing and pretty consistent in staying in tune, even with lots of trem action happening! I also am endorsed with Daisy Rock guitars. I use a solid body Hard Rock Custom Candy Special neck thru body with tap coil. It's a mean slide guitar. Great tone! If you catch me on my acoustic gigs, you'll see me playing my Taylor K26CE. I'm endorsed with Taylor guitars.The Koa wood on the K26CE is not only just breath taking in its appearance, but gives you such amazing tone, depth and clarity. I have a Fishman Matrix Affinity pickup system installed in it. It's perfect for dialing in your tonal blend and super user friendly when plugged in and performing.
I've established a real love and appreciation for Dr. Z amplifiers over the past several years. I have several Dr. Z Amps you can catch me with in the studio and on stage. I currently am performing and recording with a Dr. Z Monza, Maz 18 and a Dr. Z Prescription RX ES series. Each one is a different animal. I'm totally addicted!
Let's talk pedals! It's an assortment. I stack my overdrives, using a Boss Blues Driver and a Cusack Screamer. You'll find a Boss Reverb pedal on my board. Only my Maz 18 amplifier has a reverb tank. I use a MXR Carbon Copy Delay, a Cusack boost and a Budda Wah pedal. Love my Budda Wah pedal! It's built like a tank and really has a great sound.
My guitars are strung with GHS Boomers 10's and 11's. GHS/ Rocktron! A great company that I'm honored to be endorsed with!
How long have you been playing?
A long time! Twenty plus years for sure! A work in progress.
What was the moment you knew this is what you wanted to do?
I've always known. All I have ever wanted to do, is to be a musician. I'm truly the black sheep of the family! My father had an appreciation for music. And it really wasn't until after him and my mother passed away, that I was able to make that realization. My dad's brother actually shared with me how my dad collected records as a kid growing up many years after his passing. That's where all of his money went growing upon receiving his allowance or after getting his pay from a job. Years later, after my mother passed away, while packing up my parents place, I discovered my fathers record collection stored and well protected in my mothers hope chest. My dad was hip! He listened to such a wide array of artists. Well, ironically, every time I got my allowance, first thing I did was go to the record store ASAP. I too, invested in a ton of vinyl growing up. Hearing my uncles stories about my fathers love for music kind of brought it full circle for me. My father, was the one who bought me a piano and bought me my first guitar. I can only hope after all these years, if he was still here, he'd be pleased with what I've done musically.
What was your first concert?
My first concert was Ozzy Osbourne. Wow! It was mind blowing!
What was the first CD(or other format) that you bought?
What a tough question! It most certainly was vinyl. And I'm still in possession of it today. I bounced between investing in 33's and 45's. And I listened to everything! Probably one of my first 45's was Bad Blood by Neil Sedaka and my first 33 was Eric Clapton 461 Ocean Boulevard.
There's starting to be a lot of great female guitarists. Do you have a favorite?
This is very true. It's definitely a trend. It's definitely gridlock for me in singling out one all time favorite. I grew up listening to Joan Jett, Lita Ford and Nancy Wilson. As I got older and expanding in genres I was listening to, I started discovering many more amazing female guitarists. Debbie Davies and Sue Foley in the blues genre, making that list. There are many more! Impossible to pick one!
What are some of your thoughts on the blues? How important is it to keep them alive?
The blues is in every style. I hear it in everything. No matter how old or current the music is. I play blues, rock and an assortment of other styles of music. Regardless, blues is the basis of everything I play. I feel it's very important to keep the blues alive. I love sharing new, up and coming blues artists and music with my music enthusiast friends and students I work with. If you've never been, I would highly recommend a music enthusiast to go catch a blues festival or blues cruise. Even a blues workshop. Join the Blues Foundation. It will open a whole new world up for you and there's no going back! The Blues always gonna be here!
Eric Clapton says that every time he plugs in his guitar it is just like the first time. Is it like that for you?
Absolutely! There's a release and a joy that comes with every time I get to plug my guitar in and play. It's an extension of me.
If someone wanted to learn the guitar who would you tell them to listen to?
I'd more and likely encourage them to listen to early Eric Clapton, Jeff Beck and Jimmy Page. That's what I did, when I was first learning.
Thoughts on the state of the music industry.
This is a tough business to begin with. The economy has made things that much harder in surviving as a full time working musician. When the economy collapsed, the extras seem to be the first thing cut out of expenses for a lot of folks. Concert tickets, festivals, live music events, sponsorships, purchasing merchandise, new music CD's, etc. And a lot of folks stopped music lessons for themselves or their children. Trimming the fat, as I've heard some refer to it. Then, you have technology. YouTube. Which if you surf long enough, you can learn how to do just about anything and everything, hence cutting into music instruction programs. Folks offering free downloads of artists music online. If you really sit and think about it. It can completely freak you out. But, as artists, we rally on. If you truly love it, you keep going. The cost of living continues to go up. And many musicians still play for, well, what they probably made several years ago. Most of us are self employed. Most of us are indie artists. The DIY. You live, breath and sleep music. I feel confident that venues and artists working together, promoting events, live music, will rally on. Music is in everything we do. It's finding your niche and running with it. I think a big part of surviving into days world as a musician is being as informed as you can possibly be. Always improving upon your craft and making the time to learn the business side of music too. Knowledge is power. You give 110% of yourself and know that you're gonna move four steps forward and two steps back. Baby steps, the right attitude and networking are crucial. It's not for the faint of heart.
Anything else?
I love being a musician. I love writing, performing, continuing to hone my craft. Teaching and sharing my passion of music with others. Please checkout my links and sign up on my email list!
www.lisalimmusic.com
www.reverbnation.com/lisalim
www.facebook.com/LisaLimMusic
www.twitter.com/lisalim
www.youtube.com/user/LisaLimMusic1
Thank you to all of my friends and fans for your continuous support! I couldn't do what I do without each and everyone of you!