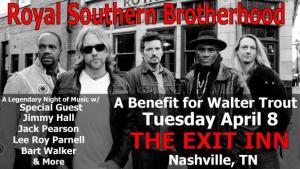 Royal Southern Brotherhood announced today via a post on their Facebook page that they will host a night of music to benefit the ailing Walter Trout. The event, "Rock Out For Trout – A Walter Trout Benefit," is scheduled for Tuesday, April 8th, 2014, and will be held at The Exit Inn, Nashville, TN.
The announcement reads in part, "Walter Trout is one of our dearest guitar HEROES and with the recent devastating news of his rapidly progressing liver disease, we want to pull together some of our friends to help raise money and awareness. Although Walter and his family have reached their medical fundraising goal, set up by a friend to help get Walter a new liver transplant, we know there will be other medical and personal expenses they will incur. Let's all show our love and support for one of the greatest guitar players of all time."
Scheduled to appear with Royal Southern Brotherhood are Special Guest Jimmy Hall, along with Jack Pearson, Lee Roy Parnell, and Bart Walker, with more guests to be named later.
Walter Trout is currently awaiting a liver transplant and receiving care at the UCLA Medical Center in Los Angeles. A recently established online fundraising effort to assist Walter and his family with medical and other related expenses has raised over $154,000 thus far.