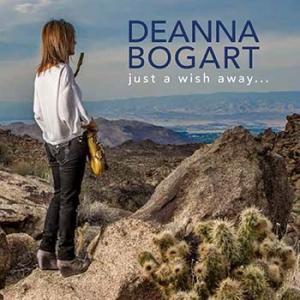 After Deanna Bogart's soulful rendition of Stevie Ray Vaughan's "Tightrope," she leaned forward and grabbed the microphone, which was obstructing her view of the audience on this steamy summer day, "Aw, the tightrope, they don't call it that for nothing." These days Bogart is "walking the tightrope both day and night" an analogy to the hard working lifestyle of this award-winning multi-instrumentalist and multifaceted musician. The three performances in Southern Maryland is in the middle of a twelve day stretch of gigs and a prelude to a live performance at BB King's Bluesville (Sirius XM) June 24th.
The date with Bluesville conveniently coincides with the anticipated release of her new album Just a Wish Away…, on Blind Pig Records.
Rising from the fusion of R&B, jazz, blues, and country, the New Orleans flavored album features some of the most talented musicians this side of Frenchmen Street collaborating to create a banquet of colorful rhythms complementing some of Bogart's most startling and emotional songwriting to date. Produced by JoeBaby Michaels, Deanna Bogart, Charlie Wooton, and Joshua Fairman, the long player list includes Marty Rifkin (Bruce Springsteen), Bonerama Horns (Harry Connick Jr.), Charlie Wooton (Royal Southern Brotherhood, ZABADODAT), Scott Ambush (Spyro Gyra), Cris Jacobs (The Bridge), Terrence Houston (George Porter), Derwin "Big D" Perkins (Jon Cleary), and more.
"This album happened so quick," Bogart noted. "In New Orleans people you don't even know come to play and the people are so nice…because it's all about music." The second track "Fine by Me Good Bayou" is a by-product of spending time in New Orleans. This bouncing and boogie-woogie rhythm is not only an example of Bogart's songwriting but a demonstration of her mastery of the piano and saxophone. With Charlie Wooton at bass providing a rhythmic foundation of soul-funk and Bonerama horns barreling out, listeners cannot help but feel the weight of the bayou. The jazzy instrumental "Collarbone" brings the soothing sounds of Bonerama horns section together with sax-sexy driven Bogart for a blend of freedom and subtlety that cannot be captured anywhere else. The catchy tune "Maybe I Won't" is an example of Bogart's tried-and-true singing and songwriting skills. The flowing and gentle sophisticated lyrics catch even the casual listener off-guard, evoking a hint of Ricky Lee Jones, The Magazine. Fun and uplifting rhythm in "Conversing with Lincoln" has a strong influence of Caribbean Creole style rhythms and sports an intriguing name…thanks to producer JoeBaby Michaels.
It's difficult to identify the genre category for this album because it represents a musical melting pot mixture of R&B, jazz, blues, and country. Bogart didn't know what to expect when she entered the Dockside studios last December; however, the "City of New Orleans" took good care of her and what came together was special. Just a Wish Away… is as fun and lovely as Deanna Bogart is and she proves she is "Still the Girl in the Band."