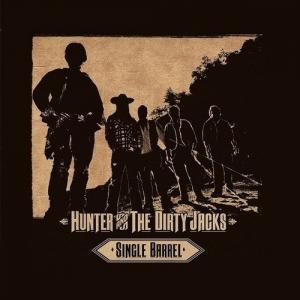 Single Barrel by Hunter and the Dirty Jacks sounds like it belongs on Sunset Boulevard under the sun. This group hailing from Los Angeles sounds pristine together, which may be why they took the "House band" reins from Vintage Trouble at Harvelle's blues club. They have a tone that precedes millennium rock, but have a sound that transcends traditional Roots and Blues, creating a unique sound their own.
The thumping bass line in "Rock and Roll Soul" is just like a heartbeat waiting to burst. Layered underneath the great, growling vocals of Hunter Ackerman, it provides as the essence of this song. The Orange County-area musicians definitely have their styles planted in Roots and Blues. The tangy guitar playing just behind Ackerman's voice in "Salt Whiskey" is tasteful and blended nicely together.
"Jubilee" highlights the harmonica as a great leading instrument, and "Doctor Dingo" has a vibe that sounds like a Black Crows rock classic. The song sounds like it comes from the 90s era of rock, and is added to a mixture of roots and blues guitar.
The solo triumphs in the stratosphere in "Break Me Down" and "Lorraine" highlights Ackerman's vocal range, his low register perfect for the low tone the song creates.
"Kennel Howl" is a different song, a good song to end the album with. It sounds like there is a hint of reverb underlying a 12-string guitar, great for playing this darker western style blues song, and a great addition to the album. The more you hear the howling vocals of Hunter Ackerman, you will fall into his trance. The perfectly assembled band with the perfectly assembled album is a must have.