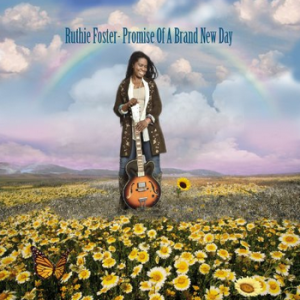 When hearing Ruthie Foster for the first time, it is the same as taking a bite out of the sweetest and most delectable piece of cake for the first time. Every song on the album is a purely blissful taste of crafted lyricism and arrangements. This voice, perfected in churches, is something special not found elsewhere!
And how soulful Foster is! Not too big or too complicated. The songs stand strong emotionally. All the instruments provide a lot without having to blow the speakers. "Singing the Blues" is a great way to being the album, a presence that lingers on after the last note. Standout songs on the album include "Learning to Fly" and "Complicated Love", each essential and evocative.  Doyle Bramhall's contribution to the song "Let Me Know" only heightens everything about Foster. The solo lends a full and low blending of Blues riffs and crunch to one of Foster's best songs on the album.
Ruthie's soft voice and simple vibratos are fantastic. Harmonies shine so well, especially in "The Ghetto", where Foster's singing is backed back a great pairing of soulful humming, and the backing singer's vocals just as angelic as hers. Promise of a Brand New Day is in line for yet another Best Blues Album Grammy Nomination or even a win! There is so much strength and passion to be had from Ruthie Foster's latest album!