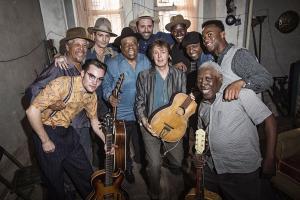 Paul McCartney recently announced the release of a 29-minute behind-the-scenes video from the film session for "Early Days", featuring Johnny Depp and a group of blues guitarists, including Roy Gaines and Motown Maurice.
The new black-and-white video, available below, features an impromptu jam session that broke out during filming, with McCartney strumming an acoustic guitar through some blues standards. At one point, a woman joins in a dances amidst the group.
An official "Making of Early Days" film that accompany's McCartney's music video will be made available later this year as part of a special collector's edition of his album, NEW, which was originally released in October, 2013. The special collector's edition will feature highlights and exclusive material chronicling the release and promotion of NEW. More details to be announced in the coming weeks.
At the 15:00 minute mark, McCartney takes the lead, singing the traditional blues line, "Well, I'm long poor boy and I'm a long way from home," before falling into an esoteric version of Carl Perkins' "Matchbox."The song was sung by Ringo Starr with the Beatles.
He announced in August that due to production issues, his upcoming reissues of "Wings At the Speed of Sound" and "Venus and Mars" would be delayed until Nov. 3 in the UK and Nov. 4 in the U.S. Meanwhile, a George Harrison box set, "The Apple Years '68-'75," has been announced for release Sept. 22 in the UK and Sept. 23 in the U.S.