This is the latest installment of our weekly series, The Language of the Blues, in which author/rocker Debra Devi explores the meaning of a word or phrase found in the blues.
Grab a signed copy of Devi's award-winning blues glossary The Language of the Blues: From Alcorub to ZuZu (Foreword by Dr. John) at Bluescentric.com. Also available as an eBook from Amazon Kindle.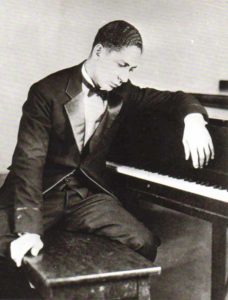 A jelly roll is a dessert made of sponge cake that has been spread with jam (or jam mixed with cream) and rolled up into a log. Jelly roll is also one of many evocative culinary euphemisms for female genitals heard in the blues. Bessie Smith bragged that "Nobody in Town Can Bake a Sweet Jelly Roll Like Mine."
"Jelly" was a popular nickname for bluesmen, especially smooth and flashy types such as pianist Jelly Roll Morton, bassist Jelly Williams, and guitarist Jelly Thompson. Before Morton became "Jelly Roll Morton," he tried out the nickname "Mr. Jelly Lord." Both names were rumored to indicate Morton's predilection for cunnilingus.
Jelly may also be an Americanization of the Mandingo word for griot, jail. African griots tend to be very popular with the ladies due to their finely honed skill with words, music, and flattery!
Songs:
"Nobody In Town Can Bake a Sweet Jelly Roll Like Mine" – Bessie Smith
"Hungry Calf Blues" – Blind Boy Fuller (Fulton Allen)
"Shake It And Break it"- Charlie Patton
Video:
Bessie Smith – "Nobody In Town Can Bake a Sweet Jelly Roll Like Mine"