This is the latest from The Bluesmobile's C.C. Rider, who spends her life venerating the founding fathers of the blues. She's walked the crooked highways of this singing country to resurrect the voices of the past. With the dirt of the Delta on her hands, she sleeps in the shadow of the giants on whose shoulders popular music now stands.

Memphis Minnie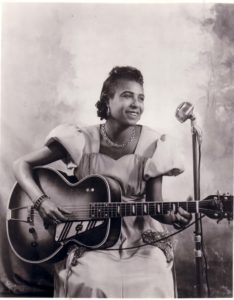 (June 3, 1897 – August 6, 1973)
The lady born Elizabeth 'Kid' Douglas, chewed tobacco while she sang. Perched in her chiffon ballgown, she spat without missin' a beat. With her dark red nails she picked out radical melodies, rhythms, counter-rhythms on her guitar. 'Kid' Douglas—known to the rest of us by the stage name that changed the game—Memphis Minnie.
By the time Memphis Minnie hit the scene, the heyday of women blues singers was all but finished. But that didn't matter. See, Minnie was one of the greatest blues guitarists of all time. Shattering gender stereotypes with every thump of her high-heel. Minnie wasn't just "good for a girl." Minnie was better than any man. In the words of frequent collaborator Willie Moore: "She was a guitar king."
A child prodigy—she picked up the banjo at 7 and had a guitar by 11. Soon enough she'd run away to join the Ringling Brothers circus. Left the circus, and gigged around Memphis before moving to Chicago, where she schooled the boys in guitar contests. Even Big Bill Broonzy had to bow before Queen Minnie. She wrote hundreds of songs. Here's one of em. From her first recording session, Memphis Minnie and "Bumble Bee Blues."