Find out what Mr. Charlie really means in this new installment of our popular weekly series, The Language of the Blues, in which author/musician Debra Devi explores the meaning of a word or phrase found in the blues.
Grab a signed copy of Devi's award-winning blues glossary The Language of the Blues: From Alcorub to ZuZu (Foreword by Dr. John) at Bluescentric.com.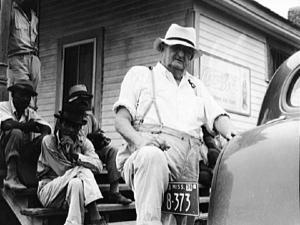 According to The Land Where the Blues Began by Alan Lomax (a must-read book for blues fans!), Charles was a popular name among Southern whites with "aristocratic pretensions," so "it was a safe bet to call the boss Mr. Charlie." Boss Charlie and Mr. Charlie were acceptable ways for slaves to address plantation overseers. Southern white men in positions of authority, such as prison guards and levee camp bosses, still expected to be addressed by such names by African Americans for many years after Emancipation.
"Charlie" and "Mr. Charlie" were also used among African Americans to refer derogatorily to a white man, or to white people in general, as blues pianist Eddie Boyd does in his defiant boogie tune "Black Brown and White." Boyd was born on Stovall's Plantation near Clarksdale, Mississippi, and became an in-demand session player, touring with Buddy Guy and recording with Fleetwood Mac and John Mayall before moving to Holland to escape American racisim. He released ten fine blues albums before he passed away in 1994 in Helsinki, Finland, just a few months before Eric Clapton released the chart-topping blues album From the Cradle, which included Boyd's "Five Long Years" and "Third Degree".
In the chorus of "Black Brown and White," Boyd sings:
If you was white, you would be alright
If you were brown, then you can stick around
but if you're black, uh uh, just get back
Boyd wraps up the tune with a call for change:
I want you to tell me right now Mr. Charlie
What you gonna do 'bout that old Jim Crow?

Stop saying if you was white, then you would be alright
If you're brown, you can stick around
See I'm black; I'm tired now I ain't going for that
Songs
"Black Brown and White"– Eddie Boyd
"Mr. Charlie"- Lightnin' Hopkins (Sam Hopkins)
Video
"Mr. Charlie" – Story and song by Lightnin' Hopkins